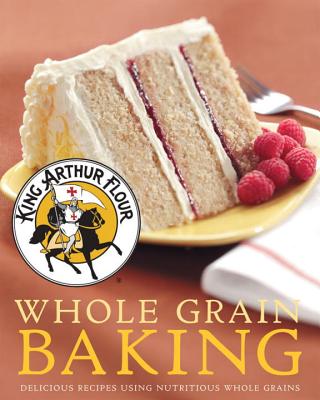 King Arthur Flour Whole Grain Baking (Hardcover)
Delicious Recipes Using Nutritious Whole Grains (King Arthur Flour Cookbooks)
Countryman Press, 9780881507195, 544pp.
Publication Date: October 9, 2006
Other Editions of This Title:
Paperback (10/6/2014)
* Individual store prices may vary.
Description
Hang on to your pie plate—King Arthur Flour Whole Grain Baking will change the way every baker thinks about whole grains.
Forget what you know about whole grain baking. Instead, envision light, flaky croissants; airy cakes; moist brownies; dreamy pie crusts; and scrumptious cookies—all made with whole grains. This is what you get in
King Arthur Flour Whole Grain Baking
, a revolutionary cookbook that breathes new life into breads, cakes, cookies, pastries, and more by transforming the dark and dense alchemy of whole grain baking into lively, flavorful, sweet, and savory treats of all types.
King Arthur Flour Whole Grain Baking
is a book that only the bakers at King Arthur Flour could successfully complete, opening up the home baker's repertoire to new flours, new flavors, and new categories of whole grain baked goods. It spills over with helpful tips, how-to illustrations, sidebars on history and lore, and a friendly voice that says to readers, "Come into the kitchen with me and let's bake." Thousands of hours were spent testing these recipes, making sure that each one met their high standards. The final result is more than 400 delicious, inviting, and foolproof recipes that have earned a place in
King Arthur Flour Whole Grain Baking—
the next generation whole grain cookbook.
About the Author
King Arthur Flour is the largest single educator of bakers in the world. Employee owned since 1996, the company conducts a yearly national baking class tour that has provided free baking classes to many thousands of bakers across the U.S. The company also publishes The Baking Sheet, a newsletter of recipes and baking information. The Baker's Catalogue, a wholly owned subsidiary, sponsors an online baking forum, The Baking Circle, on its parent company's Web site. The company's 2003 release, The King Arthur Flour Baker's Companion, was selected as one of the best cookbooks of the year by Food & Wine, People, and many other national publications. Other books by King Arthur Flour include The Original King Arthur Flour Cookbook, The King Arthur Flour Cookie Companion, and King Arthur Flour Whole Grain Baking. All the bakers at King Arthur Flour work from their 12-sided post-and-beam headquarters in Norwich , Vermont.
Praise For King Arthur Flour Whole Grain Baking: Delicious Recipes Using Nutritious Whole Grains (King Arthur Flour Cookbooks)…
[W]orth its weight in whole wheat flour. This fun, easy-to-follow tome is broken down into 11 basic chapters....recipe headnotes are helpful and worth the ink.