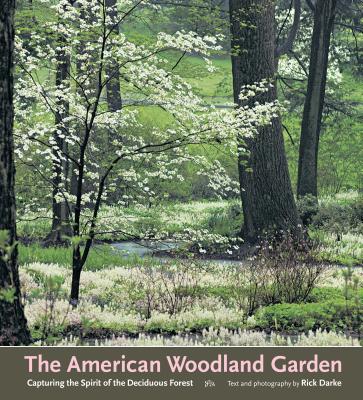 The American Woodland Garden (Hardcover)
Capturing the Spirit of the Deciduous Forest
Timber Press, 9780881925456, 378pp.
Publication Date: August 15, 2002
* Individual store prices may vary.
Description
North America's eastern half, roughly from the Midwest to the Atlantic, was once a great deciduous forest. Although centuries of human intervention have cleared much of the land, the timeless forest remains in the spirit of the place. Today, even the shortest period of human neglect allows for the resurgence of the process of forest creation. The greatest gardens — and happiest gardeners — in this area will be those that take into account the nature of the land.

In his unique, and often thought-provoking new book, award-winning author Darke promotes and stunningly illustrates a garden aesthetic based on the strengths and opportunities of the woodland, including play of light, sound, and scent; seasonal drama; and the architectural interest of woody plants.

While written from a compelling and fresh perspective, The American Woodland Garden never strays from the realistic concerns of the everyday gardener. Information on planting, soils, and maintenance provides a firm foundation for horticultural accomplishment. An alphabetical list of woodland plants offers useful advice for every garden, emphasizing native trees, shrubs, vines, ferns, grasses, sedges, and flowering perennials that fit the forest aesthetic. More than 700 of the author's stunning photographs show both the natural palette of plants in the wild and the effects that can be achieved with them in garden settings. Many of the most striking photos in the book were taken at classic gardens that are paragons of an ecological style.

The American Woodland Garden is a clarion call to a new awareness of our relationship to the natural world. This book will take its rightful place among the classic works that have influenced our concept of the American landscape.
About the Author
Rick Darke is a landscape design consultant, author, lecturer, and photographer based in Pennsylvania who blends art, ecology, and cultural geography in the creation and conservation of livable landscapes. His projects include scenic byways, public gardens, corporate and collegiate campuses, mixed-use conservation developments, and residential gardens. Darke served on the staff of Longwood Gardens for twenty years and received the Scientific Award of the American Horticultural Society. His work has been featured in the New York Times and on National Public Radio. Darke is recognized as one of the world's experts on grasses and their use in public and private landscapes. For further information visit www.rickdarke.com.
Praise For The American Woodland Garden: Capturing the Spirit of the Deciduous Forest…
"A must-have for anyone interested in woodlands and gardening." —Bristol Herald Courier

"A fabulous guide to designing, planting, and maintaining a garden in the woods." —Burke Connection
or
Not Currently Available for Direct Purchase