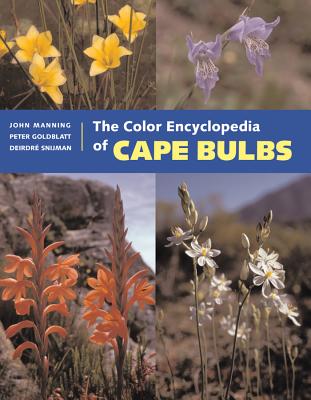 The Color Encyclopedia of Cape Bulbs (Hardcover)
Timber Press, 9780881925470, 486pp.
Publication Date: December 31, 2002
* Individual store prices may vary.
Description
The Cape Region, at the southern tip of Africa, is easily among the richest centers for bulbous plants and probably the most famous. Nearly 1200 species of bulbous plants find their home there and almost three-quarters of them occur nowhere else. This first complete account of all the bulbous plants of the Cape Floral Region is an essential aid to the identification of all species presently in cultivation as well as the many others that are potentially valuable horticultural subjects. The book is richly illustrated with high-quality color photographs of more than half the species of Cape bulbs, many of which have never been illustrated before.
About the Author
Peter Goldblatt is a leading expert on the iris family, having spent his life studying its taxonomy and evolution. He is now retired from the Missouri Botanical Garden in St. Louis. Author of many scientific papers and books, he is coauthor with John Manning of The Color Encyclopedia of Cape Bulbs and The Iris Family: Natural History and Classification.
John C. Manning is senior specialist scientist at the South African National Biodiversity Institute. Although he has studied diverse plant families, his research more recently focuses on the Iridaceae, collaborating with Peter Goldblatt, investigating the biology of the African genus Lapeirousia and the systematics of Gladiolus. John and Peter have coauthored several books, including Gladiolus in Southern Africa and wildflower guides to the southern African flora.
Praise For The Color Encyclopedia of Cape Bulbs…
"The horticultural world owes the authors—and the publishers—a great debt of gratitude for this exceptional work." —Pacific Horticulture
 
"Definitely a reference book for bulb enthusiasts, we strongly recommend it if you are interested in the subject." —Bloomings Books

"This is an excellent book for any botanical, horticultural or gardening collection." —E-Streams

"These pictures are superbly printed, beautifully sharp and with very good colour, so this book is a real treat for the botanist or gardener who is keen on bulbs." —NYBG's Plant Talk

"While aiming for comprehensiveness for botanists, the volume is also a breathtaking guide for travelers and a lavishly illustrated source of inspriation for gardeners." —SciTech Book News

"A rigorous, comprehensible treatment of the subject and the only book of its kind. It also is a very beautiful book." —Pappus

"This larege, handsome volume documents for the first time the amazing variety of species bulbs found in the Cape region of South Africa. . . . They are offered alphabetically by genus, making it a user-friendly text for beginner and old-hand alike." —University of California at Santa Cruz Arboretum Bulletin

"The first guide to the nearly 600 species of bulbs from the southern tip of Africa, many of which are beginning to bring unusual beauty to outdoor and indoor gardens in America." —Avant Gardener

"I can not think of any other trio of botanists whose combined knowledge of the subject would be greater. Each of them is an expert in their field, and they all write so very well. . . . With over 600 wonderful color photographs, this book is not only a great reference work, but also an inspiration for all who love bulbs and plants in general to visit this enchanting part of the world." —Gardening Newsletter
 
"This book will delight those interested in botanical distinctions." —California Garden
 
"This book is a glorious work, with stunning photos mostly of the plants growing in habitat." —Let's Talk Plants

"This book is a marvelous contribution by three of theh world's best known botanists. I can confidently predict that it will increase in value with time and will be an asset to libraries and book collectors alike. All bulb enthusiasts should own a copy of this magnificent volume." —South African Journal of Botany