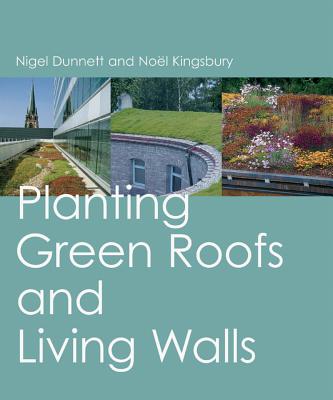 Planting Green Roofs and Living Walls (Hardcover)
Timber Press, 9780881926408, 256pp.
Publication Date: May 15, 2004
* Individual store prices may vary.
Description
The latest techniques for planting roofs and walls to enhance our buildings and benefit the environment. The green roof industry is booming and the technology changing fast as professionals respond to the unique challenges of each new planting. In this comprehensively updated, fully revised edition of their authoritative reference, Nigel Dunnett and Noël Kingsbury reveal the very latest techniques, materials, and plants, and showcase some spectacular new case studies for the non-professional. Green roofs and walls reduce pollution and runoff, help insulate and reduce the maintenance needs of buildings, contribute to biodiversity, and provide habitats for wildlife. In addition to all this, they are attractive to look at and enhance the quality of life of residents. In Planting Green Roofs and Living Walls, Revised and Updated Edition, the authors describe and illustrate the practical techniques required to design, implement, and maintain a green roof or wall to the highest standards. This informative, up-to-the-minute reference will encourage gardeners everywhere to consider the enormous benefits to be gained from planting on their roofs and walls.
About the Author
Nigel Dunnett is a Reader in Urban Horticulture in the landscape department at the University of Sheffield, where he has developed innovative research programs on naturalistic and ecologically informed planting for gardens and public landscapes. He is director of The Green Roof Centre, Sheffield, and acts widely as a consultant on green roof design and planting, and sustainable garden and landscape design in general.

He writes regularly for landscape and garden publications, including Gardens Illustrated and The Garden. With Noël Kingsbury he wrote Planting Green Roofs and Living Walls; with Andy Clayden, Rain Gardens: Managing Water Sustainably in the Garden and Designed Landscape.
Noel Kingsbury is a researcher, writer, and teacher. A gardener since childhood, he has run a nursery, designed gardens and public spaces, and done doctoral research at the University of Sheffield's Department of Landscape on the ecology of ornamental perennials. He lives and gardens in the Welsh Borders near Hay-on-Wye.
Praise For Planting Green Roofs and Living Walls…
"Gardening gurus will appreciate the thorough knowledge the writers share regarding various techniques and resources required to plant green roofs and living walls, discussing, for example, how soil depth and environmental stress will affect plant choice and maintenance." —Chesapeake Home

"For those who lack a yard and want to green a roof or wall, this resource offers important technical advice, along with horticultural recommendations for flat, sloped, and vertical surfaces." —Dwell

"One of the few book-length discussions of this topic." —Publishers Weekly
 
or
Not Currently Available for Direct Purchase