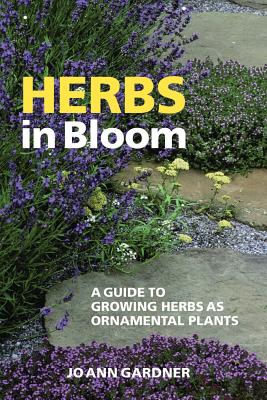 Herbs in Bloom (Paperback)
A Guide to Growing Herbs as Ornamental Plants
Timber Press, 9780881926989, 394pp.
Publication Date: January 12, 2005
* Individual store prices may vary.
Description
Now in paperback, Herbs in Bloom is a delightful A–Z selection of 80 favorite groups of flowering herbs. Full of detailed information on how to grow each herb from seed or cuttings, the book offers systematic advice on site selection, soils, transplanting, and other practical concerns. Over 700 herbs are included in all. In the author's words, "It is my aim to convince fellow gardeners that herbs also have beautiful flowers and can be used to advantage anywhere in the landscape."
About the Author
Jo Ann has written for numerous publications including Horticulture, Country Journal, Old House Journal, Garden Magazine, and Herb Quarterly. She is also a member of the Garden Writers Association. Jo Ann Gardner currently resides in the foothills of the Adirondacks in New York's lush Champlain Valley where she and her husband, Jigs, are reestablishing a small farm and garden. They are involved in volunteer work for the local nursing home, where they are developing extensive gardens.
Praise For Herbs in Bloom: A Guide to Growing Herbs as Ornamental Plants…
"An authoritative voice to the literature of herb gardening. . . . combines an enlightened design sensibility and contagious enthusiasm for the ornamental qualities of flowering herbs." —Booklist

"This is the perfect book for someone with a rustic summer house in northern New England where the garden mostly fends for itself." —Boston Globe

"Though Herbs in Bloom is small, it is packed with information." —Northwest Garden News

"The book is packed with practical hints and delightful snippets of information which make it a useful and fascinating book for any gardener." —Hardy Plant

"What I enjoyed most is her delight in the exuberance of the more rumbustious herbs, not for her are the prissy designs of those who have suffered from too rigorous an after-breakfast-nursery-training, but those of the true enthusiasts compelled to cram a year's herb growing into the few brief months separating one winter from the next." —Herbs Journal

"Presents an A-Z selection of the author's 80 favorite flowering herbs for ornamental gardens, with detailed cultural information as well as landscape uses, history and lore, color photographs, and the occasional recipe." —SciTech Book News

"This book is wonderful as herbs are used, not only for their flowers, but also for their foliage in the ornamental garden." —Gardening Newsletter

"An enthusiastic description of potential beauty. The idea of gardening herbs for ornamental purposes is modern and will certainly attract followers, especially in home gardening." —Plant Science Bulletin

"This book is full of revelations and experience that we can benefit from by reading this book." —Mountain Valley Growers

"It will serve as a manual for anyone who values herbs as ornamentals." —Auraka Herb Society

"Jo Ann Gardner's book would be wonderfully instructive to a gardener in any clime." —Cottage Garden Newsletter

"I highly recommend this book not only to herb enthusiasts, but also to anyone interested in fresh ideas for landscaping in the yard and garden." —Hobby Greenhouse
or
Not Currently Available for Direct Purchase