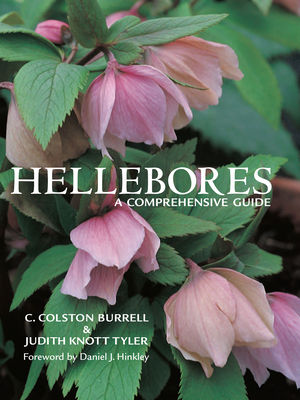 Hellebores (Hardcover)
A Comprehensive Guide
Timber Press, 9780881927658, 296pp.
Publication Date: March 20, 2006
* Individual store prices may vary.
Description
A mere 10 years ago, hellebores were considered connoisseurs' plants — subdued in coloration, hard to find, and the subject of much snobbery. Today, however, they are among the hottest perennials, thanks to their early bloom, long-lasting flowers, shade tolerance, handsome foliage, and the profusion of new colors and forms that have recently become available. Authors Cole Burrell and Judith Tyler have produced what is arguably the definitive book on this genus, packed with up-to-the-minute, comprehensive information on growing, maintenance, design, hybridization and selection, and trouble-shooting. This lavishly illustrated volume will interest hellebore lovers at every level of interest.
About the Author
C. Colston Burrell has a master's of science in horticulture from University of Maryland and a master's of landscape architecture from University of Minnesota. He won two American Horticulture Society Book Awards and received the Award of Distinction from the Association of Professional Landscape Designers. He teaches at University of Virginia and is principal of Native Landscape Design and Restoration, which specializes in blending nature and culture through artistic design.
Judith Knott Tyler has owned and operated Pine Knot Farms since 1982 on land in Clarksville, Virginia, that has been in her family for six generations.
Praise For Hellebores: A Comprehensive Guide…
"Achieves a very nice balance between being an authoritative monograph and a practical guide with lots of good photographs." —American Gardener

"A great handbook for the casual gardener, with poetic descriptions, detailed cultural information, and design ideas. This is the one book all hellebore addicts should add to their shelves this year." —Horticulture

"This thorough and reliable book is the most up-to-date available on the genus at present." —Plantsman

"The allure of the Christmas rose and the remarkable availability of the Lenten rose have heightened the rising popularity of these treasured perennials. Co-authors Colston Burrell and Judith Knott Tyler capture all of this and bring to light many of the new seed strains and hybrids in this monograph on the Helleborus genus." —American Gardener

"With outstanding photographs of wild species and prized hybrids. . . . with sources for hellebores, with appendices on medicine, black death, nutrient study, and cut flowers, this book is at the top of any list of monographic presentations." —American Rhododendron Society Journal

"The most complete work on the subject." —Garden Compass

"It would be hard to imagine anyone writing another book about hellebores for at least a decade to come—this volume is so complete." —All the Dirt on Gardening

"Comprehensive in its treatment of the various hellebore species and their cultivation, and. . . complete in its descriptions without being so dense with taxonomic jargon as to leave regular gardeners—folks without botanical training—baffled." —Hardy Plant Society of Oregon Bulletin

"What makes this book especially appealing are the shared experiences of the well-known and respected breeders and growers of the genus. With outstanding photographs of the wild species and prized hybrids. . . . this book is at the top of any list of monographic presentations." —Rhododendron News

"This monograph helps gardeners appreciate the diversity among the species, the excitement of finding new characteristic combinations, and the enthusiasm of sharing in the gardening community both here and abroad." —Perennial Notes

"Every hellebore enthusiast will find it indispensable." —Garden
 
"This will be the definitive book on hellebores for years to come." —Trillium