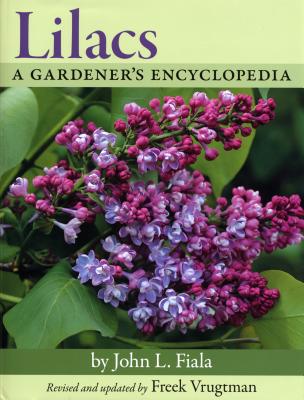 Lilacs
A Gardener's Encyclopedia
Hardcover

* Individual store prices may vary.
Description
First published in 1988 by award-winning American hybridizer Reverend John Fiala, this unique reference quickly became known worldwide as the lilac lovers' bible. The latest revision combines Fiala's passion for lilacs with the expertise of Canadian plantsman Freek Vrugtman, the international lilac registrar.

The new book provides up-to-date information on the 21 known lilac species and 10 natural hybrids, as well as hundreds of the 2000 named cultivars. Five hundred color photos have been added, including some which show the newest introductions from Russia and Poland. The text addresses practical concerns of selecting, growing, propagating, and using lilacs in the landscape, alone or with companion plants. It also provides fascinating details of the history, origin, and discovery of the species and of the people behind the development of the cultivars. A new chapter on lilacs in art and crafts and an updated list of places where lilacs can be viewed and celebrated complete this rich resource.

Packed with 580 gorgeous color photographs, most of them previously unpublished, Lilacs: A Gardener's Encyclopedia tells the story of a classic spring-flowering shrub cherished for its reliable masses of colorful flowers and sweet fragrance.
Praise For Lilacs: A Gardener's Encyclopedia…
"One test of a good book is that it inspires, and this one has certainly persuaded me to plant more lilacs." —BBC Gardens

"A thorough treatment of the Lilac genus and a must-have for anyone interested in these plants." —South Florida Sun-Sentinel

"Specialist as it may be, it's good to know it's there as a source to be consulted, say, on breeding or propagation, as well as the different species themselves." —Times

"Do not let the encyclopedic nature of the book intimidate you—this is no dry read. . . . For the cultivar descriptions, the accompanying photos, the updated taxonomic treatment, and the history and tales, this is a book that belongs on every lilac lover's bookshelf." —American Gardener

"Fiala will forever be linked to American lilacs, and his book is an essential legacy for anyone who loves these shrubs." —Evansville Courier and Press

"Vrugtman has succeeded in beautifully updating an essential volume. There are important changes in classifications listed in the new version, and it is a must-have. . . . The pictures themselves are so gorgeous they conjure up the exquisite aroma." —Idaho Farm Bureau Quarterly
Timber Press, 9780881927955, 416pp.
Publication Date: August 15, 2008
About the Author
John L. Fiala (1924–1990) introduced 78 lilac cultivars, wrote a definitive encyclopedia on lilacs, and founded the International Lilac Society. He significantly improved the color and performance of these plants. For his hybridizing achievements he was awarded the Thomas Roland Medal in 1980 by the Massachusetts Horticultural Society.

Freek Vrugtman, the International Lilac Registrar, was curator of collections at Royal Botanical Gardens in Hamilton, Ontario, and the botanical gardens of the University of British Columbia in Vancouver. In 2002 he was awarded the Science Medal by the International Society for Horticultural Science.
or
Not Currently Available for Direct Purchase