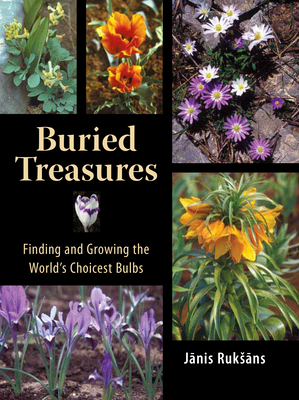 Buried Treasures
Finding and Growing the World's Choicest Bulbs
Hardcover

* Individual store prices may vary.
Description
Take a few chapters from a John le Carré spy thriller, add a hefty dose of exotic travelogue, blend with one of the best books on bulb growing ever written, and you've got Buried Treasures. Since launching his first international mail-order catalog in 1991, Latvian nurseryman Janis Ruksans has rapidly gained a reputation as one of the world's foremost experts on rare and unusual bulbs: Juno irises striped like exotic birds; gem-like corydalis; dusky, brooding fritillaries. For decades, Ruksans has been scouring remote and dangerous regions of Europe and Asia to bring back seed of the botanical treasures that he offers through his nursery, often contending with corrupt government agents, armed rebels, drunken drivers, and even (before the fall of the Soviet Union) the KGB. Once you read Ruksans' accounts of his extensive travels, you'll never look at a flowering bulb in the same way again. A crocus will take you to the shores of Lake Abant in northwestern Turkey, a tulip to the mountains of Chimgan in Uzbekistan.

Although adventure abounds in Buried Treasures, there's a great deal more for the gardener seeking trustworthy information. As well as being a renowned collector, Ruksans is a grower and propagator of bulbs second to none, and he generously shares his professional knowledge about the care and cultivation of every major and minor genus of bulb-forming plant. As richly diverse as the plants it describes, Buried Treasures will open your eyes to the beauty and fascination of the world of bulbs.
Praise For Buried Treasures: Finding and Growing the World's Choicest Bulbs…
"Fairly bursting with vivid descriptions, Ruksans' latest effort rewards plant connoisseurs with authoritative horticultural insights and sheds light on the dedicated enterprise of an impassioned plantsman." —Booklist
 
"Every now and then. . . . a book comes along that gives me pause. Part travelogue, part memoir, and part how-to, Buried Treasures by Latvian bulb expert Janis Ruksans is not a book to be skimmed." —Horticulture

"A very readable book with much valuable information about hardy bulbs. . . . Janis has a keen eye for variation." —Gardens Illustrated

"Here. . . . the bulb enthusiast will find a little adventure and some horticultural intrigue." —Choice

"A unique and very different bulb book; and the best bulb book seen in many years. . . . Some of the best information about growing bulbs from seed that is currently available. . . . Very easy for the average grower to understand. . . . This is what is so lacking in bulb books today." —Bulbs
 
"A fascinating account of bulbs. . . . the volume will appeal especially to gardeners for the rich variety of unusual bulbs discussed and the wealth of information about growing them." —SciTech Book News

"Readers will be enthralled. . . . This is undoubtedly one of the very finest and most informative books on bulbs ever produced and it will surely stand the test of time." —Alpine Gardener

"Tells of contending with corrupt government agents, armed rebels, drunken drivers and even. . . . the KGB. In the horticulture world today, we have few plant explorers, and after reading his accounts, you will have a greater appreciation of flowering bulbs." —Tulsa World
 
"Interspersed with accurate flower descriptions are captivating stories of plant discoveries in native habitats. Ruksans' saga informs, intrigues, and charms the reader with his devotion and passion for these jewels of the underground." —Garden Compass
 
"Contains well-written accounts of the adventures of a modern plant explorer, gorgeous color plates of the author's discoveries, and perhaps best of all, insider tips on how to grow the plants [Ruksans] worked with for nearly a lifetime." —Northwest Indiana Times

"This is an excellent book and it is a must for anyone with even the slightest interest in bulbs; I can assure you that once you have read how these bulbs came into cultivation you will have a much better enjoyment of these fascinating plants, the places where they grow and the people who introduce them." —Rock Garden

"Packed with stories and advice, all written in a conversational tone. It is not a beginner's how-to, but more for the serious gardener wanting in-depth information. More than 300 color plates illustrate flowers and scenery. . . . will tempt you." —Lexington Herald-Leader
 
Timber Press, 9780881928181, 460pp.
Publication Date: June 15, 2007
About the Author
Janis Ruksans has been growing bulbs since age twelve and since 1991 has operated his own bulb nursery in his native Latvia, specializing in rare and unusual bulbs. He has taken part in several expeditions searching for new bulbs throughout Europe and Central Asia. He worked at the Latvian National Botanical Garden and was the editor-in-chief of a horticultural magazine for nearly twenty years. He is the author of five books about growing bulbs. Janis Ruksans lives in Latvia.