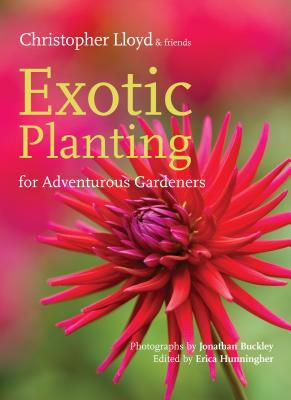 Exotic Planting for Adventurous Gardeners (Hardcover)
Timber Press, 9780881928426, 192pp.
Publication Date: October 10, 2007
Other Editions of This Title:
Hardcover (10/4/2007)
* Individual store prices may vary.
Description
Christopher Lloyd was one of the world's most outspoken and adventurous gardeners. In this, his last book, he offers his unique perspective on creating 'hot and steamy' planting schemes wherever you garden. It features his most extravagant plantings in the famous borders and pot displays that delight and excite, and sometimes shock, visitors to his garden, Great Dixter.
Covering structure as well as content, hardy as well as tender, foliage as well as flowers, Exotic Planting for Adventurous Gardeners is a worthy successor to Succession Planting and an exuberant swansong for one of the most respected and beloved gardeners ever.
About the Author
The late Christopher Lloyd (1921-2006) lived in the 15th century half-timbered manor house of Great Dixter his entire life. He is the author of a string of bestselling garden classics, and in 1979 the Royal Horticultural Society conferred on him its highest award, the Victoria Medal of Honour."
Praise For Exotic Planting for Adventurous Gardeners…
"Offers appreciative enthusiasts enlightening counsel to round out the recommendations in his previous efforts. . . . Lloyd sets forth innovative pruning and manipulating methods to optimize the visual impact of plants. Moreover, he suggests plant selections both hardy and stunningly structural in character, along with alluringly vibrant bloomers. . . . Lloyd's informative observations are peppered throughout with his inimitably opinionated, witty remarks" —Booklist
 
"Filled with stunning photographs. . . . that embody Lloyd's love of the exotic in form and color. It puts a smile on your face!" —Chicago Sun-Times

"This is [Lloyd's] valedictory book, almost completed when he died, and designed to give courage to the faint of heart" —The Chicago Tribune

"[Lloyd] was one of the world's recognized masters of the trade and was in the forefront of the movement that combined sculptural tropical foliage plants—cannas, bananas, and such—with exotic and colorful flowering plants. This sumptuous book exhibits his talent with combining plants on every page." —Winston-Salem Journal

"This book is truly an embarrassment of riches for the garden geek. . . . The photography is drool-worthy, pure garden porn." —Buffalo Spree

"Sure to be one of the year's most important and popular garden books." —Gardens Illustrated

"A colorful tribute to the man once called a maverick in the world of English gardens. . . . If you want to plan a garden bed that looks nothing like your neighbor's, then use the propagation, planning, and planting techniques beautifully illustrated by this master plantsman and friends." —Seattle Post-Intelligencer

"The ambitious, insouciant, and gloriously extravagant directives of Christopher Lloyd. His last? Here's hoping they find another manuscript tucked away." —Garden Rant

"An ebullient farewell to the mundane." —Garden Compass

"With his exotic species and bold combinations, Lloyd's message seemed to be to dare to create an environment that you may think is confined only to your imagination. Exotic Planting is an inspiring and informational guide that will have you trading cabbage palm for chrysanthemums any day." —Romantic Homes

"A delightful volume written by the famous British gardener about his exotic garden at his 15th century home, Great Dixter. . . . His extravagant plantings decorate borders and pots in this amazing book." —South Florida Sun-Sentinel

"Makes an ideal companion to Timber Press' other new release on exotics, Will Giles' Encyclopedia of Exotic Plants for Temperate Climates. Giles' book focuses on the ingredients while Lloyd tells how to bake the cake." —Harrisburg Patriot-News
 
or
Not Currently Available for Direct Purchase