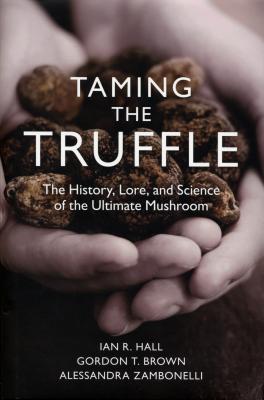 Taming the Truffle
The History, Lore, and Science of the Ultimate Mushroom
Hardcover

* Individual store prices may vary.
Description
Whether the world's best truffles come from Piedmont or Périgord inspires impassioned debate, but the effects of dwindling supply and insatiable demand for the elusive mushroom are unquestionable: prices through the roof, intrigue and deception, and ever more intensive efforts to cultivate. As international mycologist Ian Hall and his colleagues have written, "Attempts at taming the truffle, of ordering its growth and harvest, now span the globe, and there has been some success in unlocking the secrets of what French researchers have aptly referred to as la grande mystique."
 
The secrets of when, how, and where to collect truffles have been passed from generation to generation since ancient times, but artificial cultivation remains the holy grail. Here, in the most comprehensive practical treatment of the gastronomic treasure to date, the art and science of the high-stakes pursuit come together. This extensively illustrated volume brings the latest research and decades of experience to enthusiasts and professionals alike, with coverage of the leading truffle areas including France, Italy, Spain, and Asia, and the newcomers: Australia, New Zealand, and the United States.
 
The authors leaven their enthusiasm and expertise with wry humor, exploring the history and newest techniques. They describe in detail the commercial species and their host plants, natural habitats, cultivation, and maintenance, pests and diseases, and harvesting with pigs, dogs, truffle flies, and even the electronic nose. Production in truffle plantations can begin after only three years, but often the rewards may take more than a decade. So there is plenty of time to read and prepare, and no better resource than this one.
Praise For Taming the Truffle: The History, Lore, and Science of the Ultimate Mushroom…
"Aficionados, chefs, and cooking students can learn a lot here about these lords of the fungi realm." —Booklist

"Even if you don't crave growing truffles, this informative and highly readable book reveals the fascinating mysteries, lore, and biology of this ultimate food better than any other book in English. It is a paragon of science written for the interested layperson." —Gastronomica

"The pleasure of truffles can be both gustatory and emotional; likewise, this book provides both substantial information and evocative folklore." —Wine Spectator

"[The authors] reveal the state of the art and science of producing the 'ultimate mushroom' in a splendidly interesting and informative way. . . . This book is outstanding." —Inoculum

"This fascinating, lavishly illustrated volume. . . will keep the reader engrossed through site preparations, irrigation methods—and, yes, the actual tasting of the truffle." —Lavender

"Filled with high-quality color photographs. The prose matches the elegant pictures nicely, even humorously at times, and takes the reader through the history of truffle hunting and cultivation. . . . [It] would certainly attract all levels of mycologists from beginner through advanced, but it has the allure and witty prose to inveigle those who never imagined they could share our love and interest in fungi." —Fungi

"A fascinating new book." —Orange County Register

"You should buy this book. . . . It is pretty amazingly thoughtful and comprehensive and will surely become dirt-stained and probably also soiled by your truffle pig as you develop your empire. Really." —Cornell Mushroom Blog

"I thoroughly enjoyed this book. It is a lovely, luxurious book with many pictures and drawings. That the authors have a wonderful sense of humor is evident in the writing." —Journal of the Botanical Research Institute of Texas
 
Timber Press, 9780881928600, 304pp.
Publication Date: January 15, 2008
About the Author
Ian R. Hall has traveled widely and his knowledge of mushroom cultivation is international in scope. His firm, Truffles & Mushrooms Consulting Ltd., aims to further the cultivation of edible ectomycorrhizal mushrooms. He also directs the activities of Symbiotic Systems N.Z. Ltd, a company that studies the beneficial effects of mycorrhizas in forestry. Hall has published on a variety of topics in addition to edible mushrooms and mycorrhizas, including the pathology of grasses oversown into tussock grasslands and greenhouse design. He completed his PhD at New Zealand's Otago University, where he studied with Geoff Baylis. After his post-doctoral fellowship with Jim Gerdemann at Illinois University, Hall returned to New Zealand to work as an applied mycologist and plant pathologist with the Ministry of Agriculture and Fisheries (MAF Technology).
Gordon Brown holds undergraduate degrees in liberal arts and commerce from New Zealand's University of Otago, and collaborated with Ian R. Hall on two previous books on the cultivation of truffles in New Zealand. Since 1991 Brown has been a sub-editor for the Otago Daily Times (Allied Press), and formerly he was the southern region journalist for the Ministry of Agriculture and Fisheries (MAF Technology). Brown has travelled extensively and witnessed first hand the turmoil in Southeast Asia in the early 1970s. He and his wife Erina run a proofreading and editing company, All Write NZ Ltd., which specializes in editing for Southeast Asian clients who speak English as a second language.
 
Alessandra Zambonelli is regarded as one of the foremost experts in Italy on truffles. After graduating with a PhD from the University of Bologna, she began conducting research in various aspects of plant pathology and truffles, and is now a professor teaching mycology and applied plant pathology there. Zambonelli has published numerous articles on truffles and their cultivation. She is the president of the Italian Mycological Association (Unione Micologica Italiana) which connects mycological groups from all regions of Italy.
or
Not Currently Available for Direct Purchase