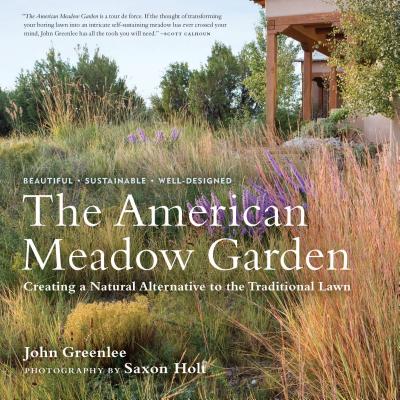 The American Meadow Garden
Creating a Natural Alternative to the Traditional Lawn
Hardcover

* Individual store prices may vary.
Description
If there's one lesson every homeowner must learn, it's this: The traditional lawn is a huge, time consuming, synthetic-chemical sucking mistake. The time has come to look for new ways to create friendly, livable spaces around our homes.

In The American Meadow Garden, ornamental grass expert John Greenlee creates a new model for homeowners and gardeners. For Greenlee, a meadow isn't a random assortment of messy, anonymous grasses. Rather, it is a shimmering mini-ecosystem, in which regionally appropriate grasses combine with colorful perennials to form a rich tapestry that is friendly to all life — with minimal input of water, time, and other scarce resources. Kids and pets can play in complete safety, and birds and butterflies flock there. A prairie style planting is a place you want to be.

With decades of experience as a nurseryman and designer, John Greenlee is the perfect guide. He details all the practicalities of site preparation, plant selection, and maintenance; particularly valuable are his explanations of how ornamental grasses perform in different climates and areas. Gorgeous photography by Saxon Holt visually illustrates the message with stunning examples of meadow gardens from across the country.

We've reached a stage where we can no longer follow past practices unthinkingly, particularly when those practices are wasteful and harmful to the environment. It's time to get rid of the old-fashioned lawn and embrace a sane and healthy future: the American meadow garden.
Praise For The American Meadow Garden: Creating a Natural Alternative to the Traditional Lawn…
"With Holt's photographs, this is a large and colorful showcase of Greenlee's extensive knowledge and great passion for gardening. His enthusiasm [is] infectious. . . . Gardeners will find this book extremely helpful and inspirational." —Library Journal

"As you turn the pages you will start to imagine that you are sprawled out in the meadow of your dreams, the grasses swooshing over your head. . . . It's not every book that lifts you from your reading nook and opens wide the vista of the heavens." —Chicago Tribune

"If you've ever thought of abandoning your lawn but haven't yet, The American Meadow Garden will surely inspire you to action. . . . Take a long look at your lawn mower, and then go buy this book." —American Gardener

"In a book long awaited by green mavens and horticultural enthusiasts, Greenlee's dynamic garden designs are paired with Holt's splendid photographs in a beautifully produced, information-packed volume that looks at meadows in the context of garden spaces large or small." —Booklist

"Are you bold enough to try your hand at a meadow garden? The time for bringing back nature is now!" —Virginia Master Gardeners Association Report

"A paean to grassy, no-mow landscapes that shiver, shimmer and wave. . . . Greenlee's easy prose welcomes all comers to aim higher than slabs of pool-table green." —NPR.org

"Here is an entirely new approach to garden-making. It's enticing and informative, and it's presented with polish and pizazz." —Pacific Horticulture

"This is not a book about how to create the purist's wildflower meadow, but breaks new ground in showing how garden plants can be used to create a meadow-like environment. Saxon Holt's photography is beautiful, and Greenlee's prose the right blend of informative and occasionally provocative." —Gardens Illustrated

"After you read this book, you'll wonder why you ever entertained the idea of a lawn." —Garden Design Online

"This is the rare species of garden book with a continental-wide scope from a West Coast point of view." —San Francisco Chronicle

"Full of inspiring ideas, Greenlee explores how to combine a spectacular variety of grasses with other plants to make the most of their natural forms, fragrance, leaf, and bloom." —The Seattle Times

"Impressive range of garden-worthy grasses." —Monterey Herald

"You'll be rethinking labor-and-resource-intensive lawns after a couple of minutes with The American Meadow Garden." —The Oregonian
Timber Press, 9780881928716, 280pp.
Publication Date: November 21, 2009
About the Author
John Greenlee has been creating grass ecologies in gardens of all sizes all over the United States and Canada since 1984. He owns Greenlee Nursery, the oldest grass nursery in California. He has appeared frequently on television and was named horticulturist of the year in 2002 by the Southern California Association of Horticulturists. His previous book is The Encyclopedia of Ornamental Grasses (Rodale 1992). He holds a Bachelor of Science degree in ornamental horticulture from Cal Poly, Pomona, California.

Saxon Holt has combined his career as a photographer with a lifelong love of gardening. His work has appeared in dozens of books and gardening magazines. He is a member of the American Society of Media Photographers, the American Society of Picture Professionals, and the Garden Writers of America Association, from which he has received three awards for his photography.
or
Not Currently Available for Direct Purchase