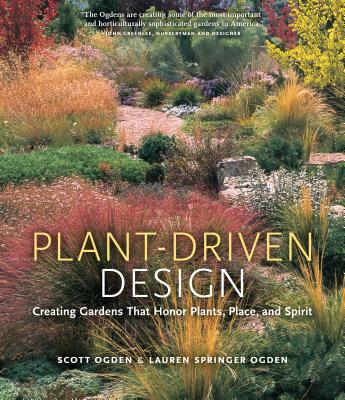 Plant-Driven Design (Hardcover)
Creating Gardens That Honor Plants, Place, and Spirit
Timber Press, 9780881928778, 284pp.
Publication Date: October 7, 2008
* Individual store prices may vary.
Description
For too long, garden design has given pride of place to architecture, artifice, and arbitrary principles. The results? Soulless landscapes where plants play subordinate roles.

With passion and eloquence, Scott Ogden and Lauren Springer Ogden argue that only when plants are given the respect they deserve does a garden become emotionally resonant. Plant-Driven Design shows designers how to work more confidently with plants, and gives gardeners more confidence to design. The Ogdens boldly challenge design orthodoxy and current trends by examining how to marry plantsmanship and design without sacrificing one to the other.

Supported by extensive lists of plants adapted to specific purposes and sites, Plant-Driven Design explores how plants interact with place. In addition, the authors' experience gardening and designing in a wide variety of climates gives their perspective a unique depth. In ideas, scope, and detail, this book both embraces and transcends regionality. By reclaiming gardens as a home to plants, this groundbreaking work will restore life-affirming vitality to garden design and profoundly affect how we understand and experience gardens.

About the Author
Scott Ogden, along with his wife Lauren, has been featured on several television shows and in numerous publications, including the New York Times, the Wall Street Journal, Nature, Martha Stewart Living, Sunset, and Horticulture. Awards include two American Horticultural Society book awards and a landscape design award from the Association of Professional Landscape Designers. Before making horticulture and garden design his life's work, Scott studied geology and paleontology at Yale.
Lauren Springer Ogden and Scott Ogden's horticultural experience in the United States and Europe spans zones 4 through 10. They design public and private gardens, speak widely, and have written three books each, including their new award-winning joint book Plant-Driven Design. They seek plants and design inspiration in the wilds of the United States as well as Mexico, South Africa, and Argentina; several of their plant introductions are in the nursery trade. At home in the challenging climates of Fort Collins, Colorado, and Austin, Texas, they tend two intensive gardens together.
Praise For Plant-Driven Design: Creating Gardens That Honor Plants, Place, and Spirit…
"The must-have (old school) garden book of the season." —The New York Times

"As veteran horticulturists and designers, the Ogdens make an argument that is compelling. . . . This book is full of inspiring pictures of garden plant communities: plants for containers, perennials that still look good after the flowers fade, the orchard floored with daffodils, herbaceous foundation plantings. The authors also offer sophisticated plant lists that will have even seasoned gardeners Googling away." —The Washington Post

"What the opinionated authors think doesn't work is described as fully as what they like, and they don't pull punches. . . . The strong point of view makes the book a better read than most of its coffee-table-worthy brethren." —Landscape Architecture

"Lauren's photography, alone, will inspire readers to a healthier and more stimulating approach to garden-making, where plants and nature take the lead." —Pacific Horticulture

"This could be one of the best garden books of the first decade of the 21st century. Combining an ecological approach to plant selection with a strong sense of the aesthetic possibilities of plants, it adds an element that is all too rarely considered—that of how plants and gardens fit into and complement their surrounding landscape, and celebrate regional distinctiveness." —Gardens Illustrated

"Champions the 'plant-it-instead-of-pave-it' point of view better than any book to date." —American Gardener

"The Ogdens put plants first when designing gardens and have assembled a photo-rich book filled with plant ideas, where they'd best flourish and in what kind of gardens. Their holistic approach embraces people, places, and the natural world." —Garden Design Online

"Focuses on how to bridge the gap between designers who can't garden and gardeners who can't design." —Washington Gardener

"The first chapter sets out to secure a thought process that puts plants first in any approach to design. It then flows effortlessly into a gallery of gardens and plant portraits interspersed with useful listings of plants for every situation. . . . A great source of inspiration for anyone serious about designing a garden." —English Garden

"Pushes toward the sensual and involved part of gardening, toward pleasure and intimacy. Gardens ought to be places of change: hourly, daily, seasonally and over years. It's heartening to see a great big glossy book championing our urges to get out and touch our plants." —San Francisco Chronicle

"Places plants at the heart of the garden instead as afterthoughts of the design." —Deseret News

"Gives plants room to flourish. . . . Packed with [Lauren Springer Ogden's] lush photographs." —Denver Post