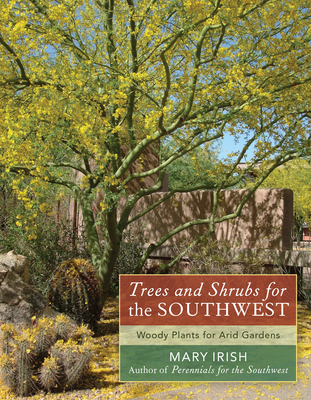 Trees and Shrubs for the Southwest
Woody Plants for Arid Gardens
Hardcover

* Individual store prices may vary.
Description
Like gardeners everywhere, gardeners in the Southwest want home landscapes that include lush, thriving trees and shrubs. But contending with difficult soils, three-digit summer temperatures, and minimal rainfall can pose a daunting challenge. To add to the dilemma, many plants that prosper in other parts of the country can't be grown in the Southwest without resorting to wasteful artificial irrigation.

The solution to this conundrum is choosing plants that are adapted to the rigors of the southwestern climate. In Trees and Shrubs for the Southwest, readers will find profiles of more than 200 of the most attractive, easy-to-grow, and climate appropriate trees and shrubs. Mary Irish also provides expert information about how to use trees and shrubs in the garden, how to plant and care for them, and how to combat common pests and diseases. This comprehensive title also includes clear and concise instructions on common tasks such as planting, staking, and pruning. From feathery-leaved acacias to bright-flowered desert willows, tough-as-nails mesquites to silvery Texas rangers, homeowners who want to create an attractive, sustainable landscape will find no better resource.

Timber Press, 9780881929058, 332pp.
Publication Date: November 12, 2008
About the Author
Mary Irish is the former director of public horticulture at the Desert Botanical Garden in Phoenix, Arizona. She has written extensively on dry-climate gardening, and is the coauthor (with her husband, Gary Irish) of Agaves, Yuccas, and Related Plants. A Texas native residing in Arizona, Mary received her master's degree in geography from Texas A&M University. She is a regular contributor to several magazines, including Sunset, and teaches classes on the care and culture of agaves, cacti, and other desert shrubs and perennials as well as introductory classes for beginning gardeners. She once hosted a weekly Phoenix-based radio show called The Arizona Gardener, and has also helped produce several television programs about gardening.
or
Not Currently Available for Direct Purchase