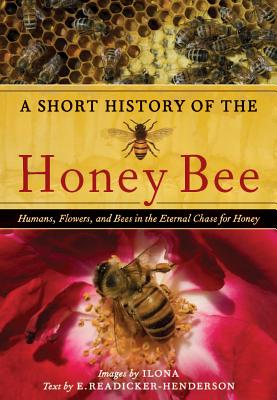 A Short History of the Honey Bee (Hardcover)
Humans, Flowers, and Bees in the Eternal Chase for Honey
Timber Press, 9780881929423, 164pp.
Publication Date: May 20, 2009
* Individual store prices may vary.
Description
There are around 16,000 species of bee. Only seven of these are responsible for creating the world's sweetest treat—honey. Combining Ilona's gorgeous photography and E. Readicker-Henderson's engaging text, A Short History of the Honey Bee follows the journey from flower to hive to honey throughout history.

A Short History of the Honey Bee starts with the story of the honey bee—why it is named Apis mellifera, how it has evolved from a solitary creature to one that travels in groups, why it stings, and how pollination really works. Readicker-Henderson then moves on to the honey, detailing its history from a wild food foraged for on cliffs to the many varieties available for purchase today.

But it is the everyday importance of the bee that remains the central message. Forty percent of the world's food supply—including apples, tomatoes, and strawberries—is dependent on pollination by honeybees. Colony collapse, when the worker bees suddenly disappear and leave behind the queen and the hive, is an ecological and agricultural crisis. For this reason alone we need to be more aware of the significance of bees.
About the Author
E. Readicker-Henderson is a beekeeper turned regular writer and contributor to National Geographic Traveler, Sierra, and others, and has won numerous awards for his writing. He lives in Bellingham, WA.



Ilona McCarty is renowned for her close-up work of flowers and nature. Her book Fleurish was honored with a Lucie International Photography Award in 2006. She lives in Salmon, ID.

Praise For A Short History of the Honey Bee: Humans, Flowers, and Bees in the Eternal Chase for Honey…
"Whether describing the life of an individual bee from her start as an egg to her death from hard work roughly six weeks later, or how honey is made from flower nectar by the alchemy of the bees, the author's passion for the subject shines through." —Booklist

"When this honey connoisseur speaks of the sweet substance as 'the truest distillation of the landscape,' it's easy to be seduced by the idea. You'll want to participate in a honey tasting after finishing this book." —The Sierra Club

"Readicker-Henderson. . . makes no apology for his very personal delight in the succulent ambrosia of honey and his enthusiasm for local products rather than the bland, sweet, blended gloop sold in plastic bottles." —Gardens Illustrated

"The amazing photography and the engaging text are fabulous." —Charleston Gazette

"Filled with just the right mixture of learning, personal narrative and historical facts, this piece is enhanced by strikingly beautiful photographs by Ilona, set among the pages like brilliant gems. The prose is comprehensible and inspiring." —Sacramento Book Review

"A short and accessible narrative, written through the author's personal experience growing up with honey and becoming a beekeeper. His delight and dedication to bees comes through, and Ilona's images are gorgeous." —Buffalo Spree Magazine

"Honey is a main subject of this delightful book. . . . Certainly our diet cannot be the same without honey bees." —Greenfield Recorder

"This book by the poetic E. Readicker-Henderson and the talented photographer Ilona far exceeded my wildest expectations. I am, in short, in love with this book! . . . Readers, I implore you. Buy this book. Then buy it for others. And teach your children every word. Every one." —Plant Whatever Brings You Joy
or
Not Currently Available for Direct Purchase