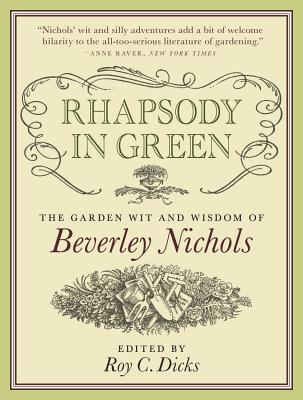 Rhapsody in Green (Hardcover)
The Garden Wit and Wisdom of Beverley Nichols
Timber Press, 9780881929485, 136pp.
Publication Date: February 4, 2009
* Individual store prices may vary.
Description
Beverley Nichols (1898–1983) was a prolific author, playwright, composer, and media personality. Though much of his work has been forgotten, his garden writing has stood the test of time. His amusing anecdotes, poetic contemplations, and penetrating observations speak to all gardeners—from houseplant killers to nursery professionals—and capture the joy, heartache, and hilarity of gardening.

Rhapsody in Green speaks to the true spirit of Beverley Nichols. Compiled by Roy C. Dicks and drawn from fifteen of his best titles, these carefully selected passages offer a tantalizing taste of Nichols's humor, passion, and poetry. Designed for easy browsing and casual reference, it is organized by subject, including favorite plants, despised plants, and the secrets to successful gardening. Readers will also delight in William McLaren's original line drawings spread throughout the text. A must-have for Nichols fans, gardeners, and plant lovers.
About the Author
Roy C. Dicks is a professional librarian, actor, stage director, and music critic (with a particular passion for opera).  He is a world-class expert on Beverley Nichols who has contributed forewords and indexes to many Nichols reprints.
Beverley Nichols (1898–1983) was a prolific writer on subjects ranging from religion to politics and travel, in addition to authoring six novels, five detective mysteries, four children's stories, six autobiographies, and six plays. He is perhaps best remembered today for his gardening books. The first of them, Down the Garden Path, centered on his home and garden at Glatton and has been in print almost continuously since 1932. Merry Hall (1951) and its sequels Laughter on the Stairs (1953) and Sunlight on the Lawn (1956) document Nichols' travails in renovating a Georgian mansion and its gardens soon after the war. His final garden was at Sudbrook Cottage, which serves as the setting for Garden Open Today (1963) and Garden Open Tomorrow (1968). The progress of all three gardens was followed avidly by readers of his books and weekly magazine columns.
Praise For Rhapsody in Green: The Garden Wit and Wisdom of Beverley Nichols…
"If you're moved to 'listen to flowers,' you're sure to discover a kindred spirit in Nichols." —Horticulture

"Nichols' eloquent yet humorous prose combined with the straitlaced nature of English gardening makes a wonderful read." —Country Gardens

"A wonderful introduction into Nichols' world, his passions, his crotchets, and his humor." —Commonweeder blog

"What a great way to get a taste of one of the funniest, most remarkable, and wholeheartedly enthusiastic garden voices of the past century." —Green Prints

"Be prepared for delight as you read Rhapsody in Green—you won't want to put it down. . . and you may never look at gardens in the same way again." —Greater Southeast Missouri Master Gardener

"These short extracts—by turns practical, philosophical, humorous, and lyrical—express the joys and frustrations of being a home gardener." —Bloomsbury Review

"If you find yourself having to make a speech in which gardening is a topic, this is an exceptional and irresistible crib-sheet." —Lincoln County News