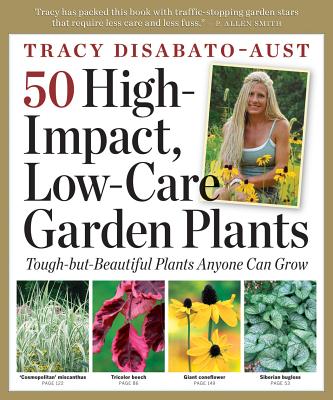 50 High-Impact, Low-Care Garden Plants
Paperback

* Individual store prices may vary.
Description
Tracy DiSabato-Aust has taught thousands of readers how to design and maintain their gardens. Her first book—The Well-Tended Perennial Garden—is Timber's best-selling title and widely considered the bible of perennial maintenance. 50 High-Impact, Low-Care Garden Plants is packed with useful tips, practical hints, and Tracy's own gardening experience. It is sure to find a place on the shelf and in the heart of every gardener. Tracy has identified 50 show-stopping plants that anyone can grow. Each selection is a dynamic choice for nearly every garden. Even better? All 50 plants have passed Tracy's test for toughness, beauty, and durability. These are Tracy's personal favorites, chosen after years of studying how to make beautiful outdoor spaces with a minimum of maintenance.
Praise For 50 High-Impact, Low-Care Garden Plants…
"For those gardeners who love plants but lack the time to spend hours in the garden, this is an excellent book." —American Gardener

"Gardeners who want the wow without the work will find plenty of ideas in Tracy DiSabato-Aust's new book." —Akron Beacon Journal

"Proves that low-maintenance doesn't mean low-interest. Tracy has packed the book with traffic-stopping garden stars that require less care and less fuss. Now you can actually find time to enjoy your garden!" —Garden Home

"DiSabato-Aust has created a checklist of flowers and shrubs, fruits and vegetables that combine toughness, beauty and durability. These practical attributes can save a gardener hours of work." —Associated Press

"DiSabato-Aust's experience with and passion for plants infuses every aspect of the book, from its engaging style to her discipline in keeping it short but thorough." —The Oregonian

"This colorful guide gets right to the point, promoting the stars of the garden with a full-page close-up, a few smaller images, plus a fact and bio sheet highlighting why each deserves center stage in your garden." —Seattle Post-Intelligencer

"A great book for novice gardeners or homeowners who wish to beautify their home with care-free plants." —Journal of the Botanical Research Institute of Texas

"A must-have because it will tell you when and how to prune your perennials for better vigor—and how to get them to bloom more than once a season where possible." —Caledonian Record

"DiSabato-Aust is an approachable garden writer. She knows we all love to garden but that we have lots of demands on our time and need astute guidance, which she provides in this fantastic book." —Idaho Farm Bureau Quarterly

"Sure to find a place on the shelf and in the heart of every gardener." —Marion Star

"Guaranteed to help . . . . readers "create their dream garden". . . . The book has stunning photography, its organization is good, and there's a brief informational box on each plant along with a longer, more detailed description." —Charleston Gazette
Timber Press, 9780881929508, 168pp.
Publication Date: January 7, 2009
About the Author
Tracy DiSabato-Aust has worked in the horticulture industry for over forty years earning international acclaim as one of America's best-known and most knowledgeable garden writers, speakers, and designers. She has spoken internationally at venues like England's Royal Horticultural Society Garden, The Royal Botanic Gardens, The English Gardening School, and the University of Oxford Botanical Gardens. DiSabato-Aust has been featured in Fine Gardening, Horticulture, Garden Design, Real Simple, The New York Times, Telegraph, and the National Post. Her website is tracylive.com.
or
Not Currently Available for Direct Purchase