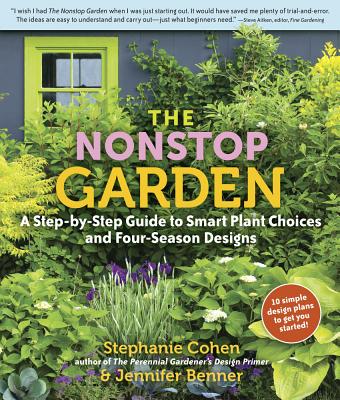 The Nonstop Garden (Paperback)
A Step-by-Step Guide to Smart Plant Choices and Four-Season Designs
Timber Press, 9780881929515, 248pp.
Publication Date: May 19, 2010
* Individual store prices may vary.
Description
With hectic lifestyles and busy schedules, people are finding it more and more appealing to enjoy their leisure time at home rather than packing their bags in search of peaceful retreats. But how can they confidently create a garden retreat? By following Cohen and Benner's trusted advice and building a nonstop garden, they'll have more creative planting options, a garden that requires less maintenance than a traditional perennial border.

The Nonstop Garden gives gardeners all the information they need to create a productive, beautiful garden. This easy-to-use guide is split into four main parts and includes ten fail-safe design plans that can be incorporated into any garden. Gardeners can choose from a native garden, a scented garden, a gold-colored garden, a garden for wet sites, a vibrant-colored garden, a cool-colored garden, a winter garden, a shade garden, and a design plan for the daunting area known as the hellstrip.
About the Author
After graduating with a bachelor's degree in horticulture from The Ohio State University, Jennifer Benner spent a good amount of time getting dirt under her fingernails. She has experience in nursery production as well as garden design, installation, and maintenance. Jennifer eventually landed in Nantucket, Massachusetts, where she worked as a horticulture manager, specializing in perennial and container gardens. In 2001 she joined the staff of Fine Gardening magazine, where she spent seven years taking articles from conception to print. As an associate editor, Jennifer enjoyed working closely with gardeners from around the United States and photographing their spaces. She now spends much of her time working as a freelance writer, photographer, and horticulture consultant but can still be found playing in the dirt, cultivating her garden in northwest Connecticut with her husband, Brent. Although she lives in New England, Jennifer still considers herself a Buckeye.

Stephanie Cohen, "The Perennial Diva," has received awards from the Philadelphia Horticulture Society, was elected a fellow of the Garden Writer's of America, and was named a Garden Communicator of the Year by American Nursery and Landscape Association. Cohen founded the aboredum at Temple University and served as the director for five years. She has written for Country Living Gardener, Blooms of Bressingham Perennial Program, American Beauties Program, The Pennsylvania Horticultural Magazine, Organic Gardening, Fine Gardening, and Green Profit. 
Praise For The Nonstop Garden: A Step-by-Step Guide to Smart Plant Choices and Four-Season Designs…
"Any book of gardening advice written by people more accustomed to working with soil instead of ink is worth a look. . . . Add in a bunch of handy planting plans and some smart maintenance advice, and you've got everything you need to create a four-season garden." —Fine Gardening
"This book will stir a desire to plan for year-round interest and hold your hand while you endeavor to achieve it." —Newsday

"Garden design can be intimidating, but this book is a great place to start." —Garden Gate

"That's smart gardening." —Digging

"A compact guide to seasonal plant groupings, Cohen and Benner's handbook suggests innovative changes to the humdrum yard." —American Reference Books Annual
"Clear writing and instructive photos aimed at beginning gardeners and those baffled by seasonal plant choices and arrangements." —The Seattle Times
"A born teacher, [Cohen] has put her considerable knowledge to work in this book for gardeners of many levels in many situations." —Oregonian

"Belongs in every library." —Northwest Indiana Times

"One of the leading authorities on overall gardening techniques and strategies." —Buffalo Spree
"The photos are gorgeous and creative, the designs are well-thought-out and easy to envision and understand, and Stephanie's humorous, no-nonsense approach will make you feel like a more experienced gardener has taken you by the hand and joined you in creating the garden you've always dreamed of." —North Coast Gardening
"If you're shooting for a landscape that's colorful, that changes with the seasons and that's reasonably low maintenance, here's your guide." —People Places Plant
or
Not Currently Available for Direct Purchase