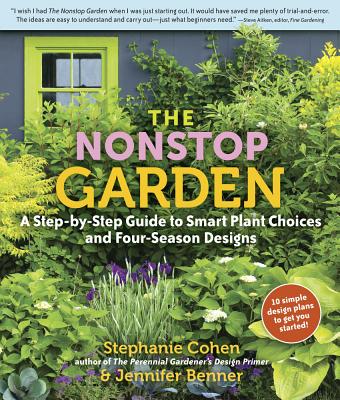 The Nonstop Garden (Paperback)
A Step-By-Step Guide to Smart Plant Choices and Four-Season Designs
Timber Press (OR), 9780881929515, 248pp.
Publication Date: May 19, 2010
* Individual store prices may vary.
Description
With hectic lifestyles and busy schedules, people are finding it more and more appealing to enjoy their leisure time at home rather than packing their bags in search of peaceful retreats. But how can they confidently create a garden retreat? By following Cohen and Benner's trusted advice and building a nonstop garden, they'll have more creative planting options, a garden that requires less maintenance than a traditional perennial border.

The Nonstop Garden gives gardeners all the information they need to create a productive, beautiful garden. This easy-to-use guide is split into four main parts and includes ten fail-safe design plans that can be incorporated into any garden. Gardeners can choose from a native garden, a scented garden, a gold-colored garden, a garden for wet sites, a vibrant-colored garden, a cool-colored garden, a winter garden, a shade garden, and a design plan for the daunting area known as the hellstrip.