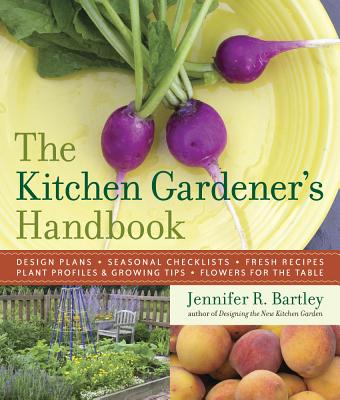 The Kitchen Gardener's Handbook (Paperback)
Timber Press, 9780881929560, 224pp.
Publication Date: November 24, 2010
* Individual store prices may vary.
Description
"A mouthwatering picture book." —Toronto Tasting Notes

No longer content with separating the plants they grow to eat and the plants they grow for beauty, gardeners are discovering the pleasures of incorporating both edibles and ornamentals into their home landscapes. The Kitchen Gardener's Handbook makes it easy. Whether she's sharing tips on planting radishes in spring, harvesting tomatoes in summer, or pruning perennials in winter, Bartley's friendly advice gives gardeners the tools they need to build and maintain a kitchen garden. Readers will learn how to plant, grow, and harvest the best vegetables, fruits, greens, and herbs for every season. They'll also find seasonal recipes that celebrate the best of the harvest, monthly garden chores, eight sample garden designs, and information on using cut flowers for decoration. The Kitchen Gardener's Handbook is a guide for gardeners who want it all—the freshness of fruits and vegetables and the beauty and simplicity of hand-picked bouquets.
About the Author
Jennifer R. Bartley is a registered landscape architect and founder of the design firm, American Potager LLC. She holds a master's degree in landscape architecture from The Ohio State University. Her photographs of traditional potagers inspire audiences to create their own modern, seasonal, and ornamental kitchen gardens. Bartley lectures on potager design, garden design, and seasonal living.
Praise For The Kitchen Gardener's Handbook…
"It's a book you can't help but tuck with scraps of paper, and turn-down page corners, as you harvest a bumper crop of fine ideas." —Chicago Tribune

"Lovely photographs [and] succinct to-do lists." —American Gardener

"Will resonate with folks who have some space and are looking to improve it with a year-round beautiful and edible outdoor yard." —ForeWord Magazine

"If edible gardening is your passion, then this seasonally organized book, brimming with useful information, will come in handy." —Milwaukee Journal Sentinel
 
"One of the most complete kitchen gardener's aids we've ever seen. From design to cultivation advice to crop suggestions to recipes this book has it all." —GourmetSeed.com
 
"Filled with lovely photographs and detailed landscape plans, the book is a pleasure to look at." —Gulf Coast Local Food

"I have rarely seen a gardening book with such useful photos and illustrations, or one that does such a good job of making sure the images and text work together." —Diggin' The Dirt
 
"Bartley uses this book to guide the gardener to incorporate edibles into the ornamental landscape, a very worthwhile endeavor for those with limited gardening space. . . . A good choice for gardeners to want both beauty and good food from the same garden." —Danville Register & Bee

"If you are looking at gardening more from the chef viewpoint. . . . this book provides similar growing information and designs, but the real focus is the end products — the many recipes that use seasonal vegetables and fruits." —SustainableHort.com

"A helpful, practical and beautifully compiled guide to growing what one wants to eat." —Lemuria Bookstore Blog
or
Not Currently Available for Direct Purchase