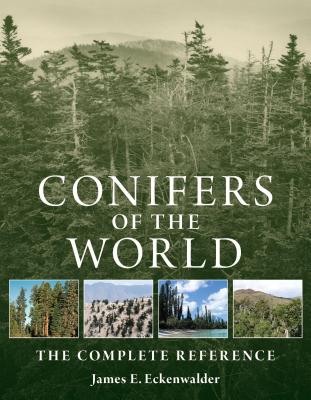 Conifers of the World (Hardcover)
The Complete Reference
Timber Press, 9780881929744, 744pp.
Publication Date: November 14, 2009
* Individual store prices may vary.
Description
Researched for more than three decades, this definitive work provides up-to-date descriptions of all the true conifers of the world, including 545 species of trees and shrubs. Written for accessibility to both horticultural and botanical audiences, it is the first comprehensive update of conifer taxonomy in nearly a century.

Noted conifer taxonomist James E. Eckenwalder also discusses the relationships among the groups, practical usages, champion trees, fossil occurrences, and biology.
 New identification guides for the families and genera are based whenever possible on foliage features and thus should be easier to use than traditional conifer keys, which focus on seasonal, and often microscopic, cone characters. Eckenwalder shares the reasoning behind his taxonomic decisions, many of which are unique to this book, reflecting a comprehensive reevaluation of conifer classification.
He also outlines the features sought in cultivars of each genus, particular cultivation concerns, and conifers recommended for cultivation under various conditions and to achieve different effects. Some 3,000 cultivars have been available in recent times, more than five times the total number of conifer species.
Several hundred original illustrations include drawings of the seed cones for all genera as well as for representative species. Maps of the natural distribution of each genus allow for easy comparison of ranges. Handsome black-and-white photographs of species in their natural habitats and attractive color photos further enrich the volume. More than 100 images reproduce foliage of many genera as an aid in identification.
With its unprecedented attention to detail and extensive bibliography, this major work is an essential reference for botanists, naturalists, and horticulturists.
About the Author
James E. Eckenwalder is associate professor of plant systematics at the Department of Ecology and Evolutionary Biology at the University of Toronto, where he focuses on taxonomy, natural hybridization, and macroevolution. He graduated from Reed College in Portland, Oregon, and earned his doctorate from the University of California, Berkeley. His research, which has resulted in significant changes to conifer taxonomy, emphasizes the classification and evolution of vascular plants, especially trees. His interests include the theoretical and practical bases of plant classification, the tracing of evolutionary histories, the integration of different lines of taxonomic evidence into classifications, the most effective ways of incorporating taxonomically awkward organisms—especially hybrids and fossils—into classifications, and the testing of taxonomic hypotheses.
Praise For Conifers of the World: The Complete Reference…
"A major new reference work that will become indispensable to botanists, naturalists, horticulturists, nursery staff, botanical garden staff, and plant collectors." —Choice

"James E. Eckenwalder has not just written a book about trees, he has created an epic work that may well stand for years as the definitive source for information about conifers." —North County Times