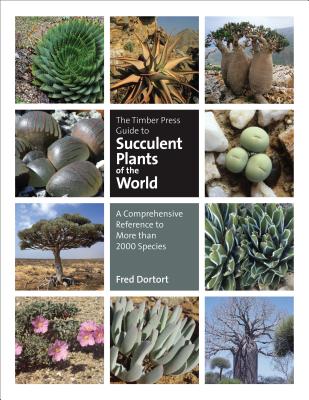 The Timber Press Guide to Succulent Plants of the World
A Comprehensive Reference to More than 2000 Species
Hardcover

* Individual store prices may vary.
Description
The plants are organized into 28 intuitively logical groups, such as succulent euphorbias, mesembryanthemums, bulbs, succulent trees, aloes, agaves, and haworthias. Each entry includes information on the plant's native habitat, its cultivation requirements, and its horticultural potential. As useful to novice growers as to collectors and those with an existing interest in succulents, this will be the standard reference for years to come.
Praise For The Timber Press Guide to Succulent Plants of the World: A Comprehensive Reference to More than 2000 Species…
"A book like this is as restorative as a three-week vacation, minus the hassles with airplanes." —The New York Times

"Sure to be valuable for botanists and gardening enthusiasts." —Library Journal

"Comprehensive and accessible volume. . . . Recommended for all." —Booklist

"A fascinating compendium and homage to succulence, amply repaying exploration to both expert or experienced novice who thirsts to know more." —The Garden

"A great companion book for beginners as well as avid collectors of these fabulous plants." —Detroit News

"You'll learn about more than 2,000 succulents, their natural history, and how to enjoy them in your garden or in your home." —Halifax Chronicle Herald

"A new reference for newbie fans and avid collectors." —San Diego Home and Lifestyle Gardens

"Without question, the best contemporary presentation of this vast group of plants that are primarily from southern Africa and Mexico." —The Desert Sun
Timber Press, 9780881929959, 344pp.
Publication Date: October 18, 2011
About the Author
Fred Dortort has grown succulent plants and cacti for over thirty years. He has studied and observed succulents in locations as diverse as Baja California, mainland Mexico, South Africa, Namibia, and the American Southwest. He lectures widely on succulent plants, has taught classes at the University of California Botanical Garden in Berkeley, and has written numberous articles for the Cactus and Succulent Journal, as well as for publications such as Pacific Horticulture and Garden. Fred lives in Berkeley, California.