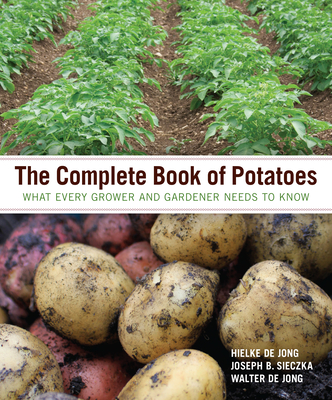 The Complete Book of Potatoes
What Every Grower and Gardener Needs to Know
Hardcover

* Individual store prices may vary.
Description
The only comprehensive resource for home gardeners and commercial potato growers, The Complete Book of Potatoes has everything a gardener or commercial potato grower needs to successfully grow the best, disease-resistant potatoes for North American gardens. Includes practical as well as technical information about the potato plant, its origin, conventional and organic production techniques, pest management, and storage practices. The plant profiles include still life photographs of the exterior and interior of the tuber, and a succinct description of each variety's physical and culinary qualities.

Praise For The Complete Book of Potatoes: What Every Grower and Gardener Needs to Know…
"Of particular interest to North American home gardeners." —Book News

"Clearly this is the leading resource for those interested in growing potatoes both for pleasure and for small business." —American Reference Books Annual

"A beautiful book with lots of useful photographs, including those of various potato diseases, which will occasionally trouble even the most easy-going home grower in a wet year." —Garden Rant
 
Timber Press, 9780881929997, 260pp.
Publication Date: March 30, 2011
About the Author
Hielke De Jong is a native of the Netherlands. He spent most of his career as a potato breeder at the Agriculture and Agri-Food Canada Potato Research Centre in Fredericton, New Brunswick. Hielke has traveled widely throughout the Americas and East Asia where he served as a volunteer consultant and lecturer on potato related issues. He is a Fellow of the Agricultural Institute of Canada, an Honorary Life Member of the Potato Association of America and an Honorary Professor of the Hunan Agricultural University in China.
Walter De Jong grew up in Eastern Canada. Although surrounded by potatoes and potato people throughout his childhood, he only realized midway through graduate school that he wanted to become a potato scientist like his father. De Jong is an associate professor at Cornell University in Ithaca, NY, where he oversees both an applied potato breeding program and a potato molecular genetics laboratory.
Joseph B. Sieczka began his professional career as an extension agent in Steuben County in the southern tier of New York in 1964. He joined the staff of the Department of Vegetable Crops at Cornell University in 1968 where he had responsibility for the extension and applied research program for horticultural aspects of potato production. In 1980 he relocated to Riverhead, NY to assume the responsibility of Coordinator at Cornell's Long Island Horticultural Research Center. He has been an active member of the Potato Association of America, a professional society for the advancement of knowledge of all aspects of the potato. He has served this organization in many capacities, including as President and was elected Honorary Life Member.