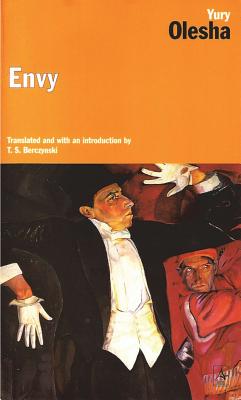 Envy
Paperback

* Individual store prices may vary.
Description
Andrei Babichev is a paragon of Soviet values, an innovative and practical man, Director of the Food Industry Trust, a man whose vision encompasses such future advances for mankind as the 35-kopeck sausage and the self-peeling potato. Out of kindness, he rescues from the gutter Nikolai Karalerov, violently tossed from a bar after a drunken and self-destructive tirade. But instead of gratitude, Babichev finds himself the subject of an endlessly malignant jealousy, as Kavaelrov sees in him a representative of the new breed of man who has prevented him from realizing his true greatness. A scathing social satire, Envy is a concise and incisive exploration of the paradigmatic conflicts of the early Soviet age: old versus new, imagination versus pragmatism, and the alienation of the romantic artist in the age of technology. Critics as far apart as Gleb Struve ("One of the most interesting and original works in the whole of Soviet literature") and Pravda ("Olesha's style is masterful, his psychological analysis infinitely subtle, his portrayal of negative characters truly striking") have praised the novel, and one of the signs of its universality is the fact that it has been claimed by nearly every school of critics and interpreted as everything from a submerged homosexual story to a 20th-century Notes from the Underground.
The Overlook Press, 9780882330914, 120pp.
Publication Date: January 16, 2009
or
Not Currently Available for Direct Purchase