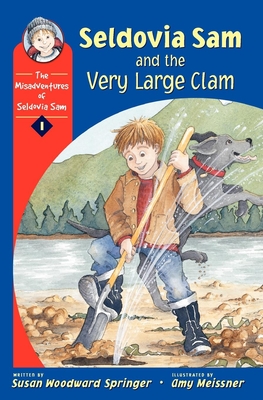 Seldovia Sam and the Very Large Clam (Misadventures of Seldovia Sam #1) (Paperback)
Alaska Northwest Books, 9780882405704, 64pp.
Publication Date: May 1, 2003
* Individual store prices may vary.
Description
Youngsters will love reading about the misadventures of Sam, a fictitious eight-year-old boy from Seldovia, Alaska, who slips in and out of trouble--but always learns something in the process. In book one, Sam wants to find the biggest clam ever. He's digging so hard that he doesn't notice when the tide comes in. Will Dad get back with help in time? Come along with Sam on each exciting adventure as he discovers the wilderness right outside his door in Seldovia, Alaska. Read all the books in this growing series, The Misadventures of Seldovia Sam.
About the Author
Susan Woodward Springer grew up in a fishing village on the coast of Maine. She attended college in Maine and Vermont, and moved to Alaska in 1985 where she developed the series, The Misadventures of Seldovia Sam. She loves the outdoors and spent many years exploring the backcountry around the real town of Seldovia, Alaska before relocating back to the continental United States. Her previous publications include Seldovia, Alaska: An Historical Portrait of Life in Herring Bay (Blue Willow, Ind. 1997). And an environmental education color book commission in 1995 by Alyeska Pipeline Co. Her text and interactive pen pal program featuring Alaska schools, titled Alaska...Pure Poetry, is part of Alyeska's environmental education program and was selected by the Smithsonian Museum gift shop to complement the Alaska Pipeline exhibit. A portion of the author's proceeds from The Misadventures of Seldovia Sam have been earmarked for the Alaska Children's Trust. Susan Woodward Springer, an artist and writer currently lives in Boulder, Colorado. Amy Meissner completed her undergraduate degrees in art and textiles in Nevada and spent several years as a clothing designer in the United States and Canada. Amy received a Master of Fine Arts in Creative Writing at the University of Alaska Anchorage, while focusing on her artwork in her spare time. Besides her existing illustrations in the expanding series entitled, The Misadventures of Seldovia Sam, she has illustrated three other children's books.