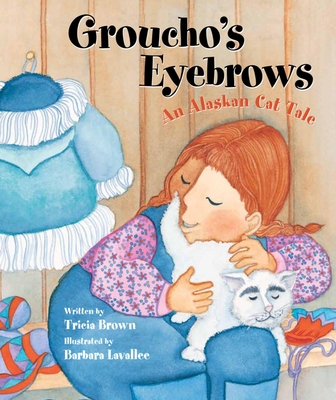 Groucho's Eyebrows
An Alaskan Cat Tale
Paperback

* Individual store prices may vary.
Other Editions of This Title:
Hardcover (9/1/2003)
Description
Groucho's name is obvious to Kristie when she names her new kitten. He's as white as a cloud everywhere except for those two black smudges above his eyes. What other name could she have given him? Kristie and Groucho become fast friends and playmates, reading together, snuggling under the quilt, and playing hide-and-seek, tracking games in the snow of a far north winter. When Grouch wanders away one wintery day, Kristie must rely on her Alaskan outdoor skills and woodsy savvy to follow various animal tracks. Young readers join her in a search for those precious black eyebrows in a scary, snowy world full of moose, fox, and other creatures of the wild.
Alaska Northwest Books, 9780882408927, 32pp.
Publication Date: August 31, 2012
About the Author
Tricia Brown is the author of several nonfiction books for adults, as well as the award-winning nonfiction childen's book "Children of the Midnight Sun. "She has also written "Patsy Ann of Alaska: The True Story of a Do""g "illustrated by James Fowler (2011)Barbara Lavallee is a premier Alaskan artist whose best-selling books include "Mama, Do You Love Me? "and the Imagine Living Here series. Her original paintings and art prints are sold to Alaskan visitors who come from around the world.