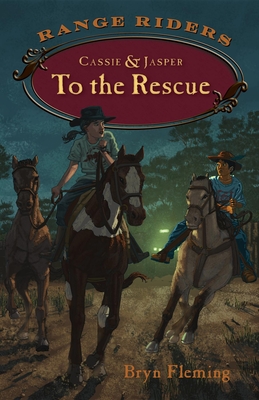 Cassie & Jasper to the Rescue (Range Riders) (Paperback)
Westwinds Press, 9780882409924, 129pp.
Publication Date: May 1, 2014
Other Editions of This Title:
Hardcover (11/17/2014)
* Individual store prices may vary.
Description
Time is short. A horse is in danger. Can cowgirl CASSIE and her sidekick JASPER rescue the horse from the owner's villainous son? Or will the mare go to the local auction and meet a bad end?
The ranch kids, raised on rodeos and cattle drives, resurrect the dilapidated corral and barn of an abandoned homestead to house the soon-to-be-rescued mare.
The kids hide, sneak, and spy on the neglectful horse owners. Then, in a desperate night ride, Cassie and Jasper attempt to lead the rescued horse to safety. Danger trails close behind them on a roaring four-wheeler. Jasper musters his courage and risks all for the horse and his friend. Along the way a new friendship and understanding develops as Cassie and Jasper help the neglected horse's elderly owner to care for her properly.
At the abandoned ranch, the pursuer reappears, forcing Cassie into a dangerous game of hide-and-seek in the old ranch buildings. She's trapped in the old barn, along with the mare. Will Jasper return in time? Are the kids' cowboy skills enough to save them all?

About the Author
Bryn Fleming was born and raised in Portland, Oregon, and graduated from Portland State University with a degree in English. She taught creative writing classes at Portland Community College, and has been published in Highlights, Cricket, and numerous poetry journals. Bryn volunteered at a wildlife care center as a teenager, worked in seven different National Parks, traveled and worked in Australia, New Zealand, and the Caribbean where she crewed on sailing yachts and worked at the Oregon Zoo for ten years. She now lives in Central Oregon with rescue dogs Bandit and Pippin, shelter cats Amber and Angel, horse Sky, and an adopted wild burro Biscuit and mini-mule, Mercy. She is currently employed as a fish biology field technician helping to restore endangered wild steelhead to Oregon rivers.