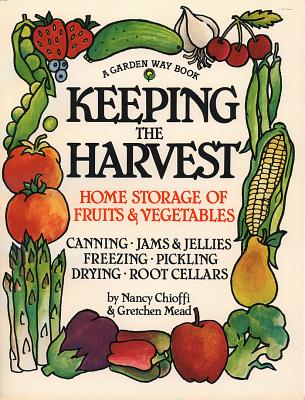 Keeping the Harvest
Discover the Homegrown Goodness of Putting Up Your Own Fruits, Vegetables & Herbs
Paperback

* Individual store prices may vary.
Description
Nothing says "cozy" like a rustic kitchen strung with dried garlic and herbs, while jars of handmade jelly sit on the counter waiting to be slathered onto freshly baked bread. Enjoy the bountiful produce picked straight from your backyard garden year-round with these simple yet satisfying home-preserving techniques. From canning, drying, and pickling in autumn to curing and cold storage after the frost comes, you'll soon be a master at outwitting nature's growing rhythms.
Praise For Keeping the Harvest: Discover the Homegrown Goodness of Putting Up Your Own Fruits, Vegetables & Herbs…
" The authors, Vermonters Nancy Chioffi and Gretchen Mead are experts on cooking and food preservations as well as being advanced gardeners." - The Cape Codder
" This book is about perfect. It's 8.5x11 inch format allows it to open flat on the counter and the 10-point type can be read without squinting. Illustrations are simple line drawings in great abundance. Anyone unable to follow the directions in this book shouldn't be allowed to use sharp knives or work with boiling water." - Rural New England Magazine
" There seems in fact to be no aspect of home preservation they have not sensibly considered." - Horticulture Magazine
" One of the most up-to-date, helpful books on home food preservation to be published…Keeping the Harvest is excellent for the beginner as well as the more experienced food preserver." - Seattle Post- Intelligencer
Storey Publishing, LLC, 9780882666501, 208pp.
Publication Date: January 5, 1991