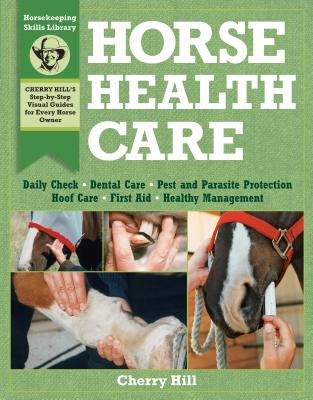 Horse Health Care (Paperback)
A Step-By-Step Photographic Guide to Mastering Over 100 Horsekeeping Skills
Storey Publishing, LLC, 9780882669557, 160pp.
Publication Date: January 4, 1997
* Individual store prices may vary.
Description
A healthy horse is a happy horse. Packed with dozens of essential health care skills every horse owner should know, this guide will help you keep your animal healthy, save you money, and make your horse operation more self-sufficient. Cherry Hill provides illustrated step-by-step instructions for routine medical maintenance like hoof care, dental exams, and checking vital signs, while also showing you how to deal with an injured horse and the correct techniques for treating wounds, giving injections, wrapping a leg, and preventing infection.
About the Author
Cherry Hill is an internationally known instructor and horse trainer and has written numerous books, including 101 Arena Exercises for Horse & Rider, Horsekeeping on a Small Acreage, How to Think Like a Horse, What Every Horse Should Know, and Horse Care for Kids. Visit her at www.horsekeeping.com, where you can find information on her books, DVDs, and horsekeeping knowledge.
Richard Klimesh cares for five horses on a 70-acre horse facility in Colorado. He is a Certified Master Farrier, who has written hundreds of articles on hoof care and horse facilities. He is the Webmaster of www.horsekeeping.com and the producer of Horsekeeping Videos.
Praise For Horse Health Care: A Step-By-Step Photographic Guide to Mastering Over 100 Horsekeeping Skills…
"Horse Health Care gives an owner the basic tools he or she needs to ensure a horse's well- being." -Western Horseman
"One of the most prolific writers in the equine industry, Cherry Hill has compiled another book filled with good how-to information." - Western Horseman
" Her simple explanations and instructions solve much of the mystery for horseman, especially those new to the industry." - Western Horseman