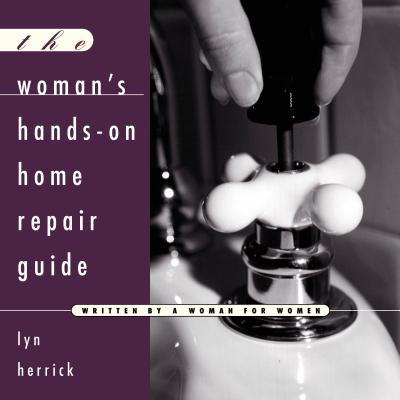 The Woman's Hands-On Home Repair Guide (Paperback)
Storey Publishing, LLC, 9780882669731, 208pp.
Publication Date: January 9, 1997
* Individual store prices may vary.
Description
Fix it yourself! Learn how to fix leaking faucets, broken windows, and creaky floors with this one-of-a-kind guide to home repair that is written by a woman for women. With an upbeat, no-nonsense style, Lyn Herrick provides clear step-by-step instructions for fixing a variety of common household issues, including stubborn appliances, faulty latches, and flickering light fixtures. Save both time and money, while also enjoying the satisfaction that comes with a repair job well-done. 
About the Author
Lyn Herrick writes the nationally syndicated "Ask Mrs. Fix-It" column and also provides do-it-yourself information online. Herrick has been a carpenter, theater lighting technician, "handy-person," ski patroller, and golf course groundskeeper. She is the author of The Woman's Hands-On Home Repair Guide and lives in North Carolina.
Praise For The Woman's Hands-On Home Repair Guide…
" Moving from project to project around the house, Herrick is an inspiring leader, whether confidently replacing a doorknob, repairing a leaky dishwasher, or installing a new shower head. As her admiring apprentice, you realize how easy it is to make some of the most seemingly daunting household repairs." - Good Housekeeping
"Chapters begin with a basic lesson outlining the anatomy of a household system…followed by a troubleshooting chart that lists typical problems and their common remedies. Armed with the useful information in this handy guide, anyone can become queen of her own castle." – Good Housekeeping
"… a highly usable guide for dealing with household maintenance and crises." - The Chicago Sun-Times
"…there are few things for frustrating than waiting (and paying) for someone else to fix your household problems. [The Woman's Hands-On Home Repair Guide] offers 200 pages of step-by-step advice on replacing broken windowpanes and electrical outlets, cutting ceramic tile, busting clogs and tackling appliance repairs." – The Chicago Sun-Times
or
Not Currently Available for Direct Purchase