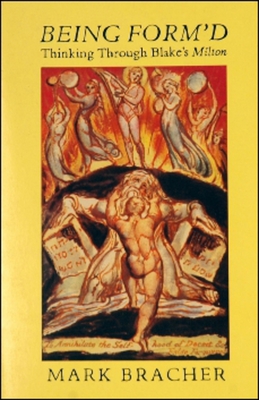 BEING FORM'D
Thinking Through Blake's Milton
Paperback

* Individual store prices may vary.
Description
This exemplary philosophical reading of Milton is going to make a tremendous change in Blake's criticism. It will take a while to digest, and critics without a firm grounding in philosophy will find it difficult to follow some of the time. Yet the careful reader of Bracher, who accepts his careful definitions and consistent employment of concepts and terms, will find aspect after aspect of the poem clarified and its whole argument and message made plain.. A landmark of modern scholarship! -David V. ErdmanBeing Form'd opens truly new perspectives upon the primal ground not only of Blake's revolutionary imaginative vision but also upon that new apocalypse which is simultaneously a reversal of the western consciousness and a new birth of a universal vision and consciousness. -Thomas J.J. Altizer
Barrytown/Station Hill Press, Inc., 9780882680125, 304pp.
Publication Date: August 8, 1995
About the Author
Mark Bracher's current teaching and research center on the question of how literary study in particular and education in general can help students become more fulfilled individuals and more productive and socially responsible members of society.  More specifically, by drawing on psychoanalytic theory, social psychology, and cognitive science, Bracher works to formulate educational and other cultural strategies for reducing social injustice, including not only  racism, colonialism, sexism, and homophobia but also the obscene and growing disparities in wealth and well being within both American society and the world at large. He is a Professor of English at Kent State University.
or
Not Currently Available for Direct Purchase