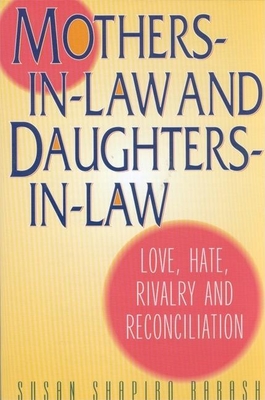 Mothers-In-Law and Daughters-In-Law
Love, Hate, Rivalry and Reconciliation
Paperback

* Individual store prices may vary.
Description
Susan Shapiro Barash, acclaimed author of Second Wives and Sisters, turns her penetrating powers of observation to the oldest of triangles, exploring the uncharted dimensions of mother-in-law, daughter-in-law, and son/husband roles. Women whose mother/daughter-in-law status is fast approaching, newly acquired, or well established will benefit from this book, as will the son/husband stuck in the middle. Barash leads readers through this complex relationship to a better understanding of the dynamics of insecurity, generational jealousies, child rearing dilemmas and power struggles. Utilizing an extensive survey of hundreds of women, their mothers-in-law and the men they share, Barash presents the real voices of those affected, the mixed feelings and problems faced as well as the ways in which they learned to cope and solutions devised. Interspersed with these first-hand accounts are the insights and recommendations of noted psychologists and relationship counselors. From Mothers-in-law and Daughters-in-law, readers will learn how to create a mutually independent and rewarding relationship that allows mother-in-law, daughter-in-law, and son/husband to grow.
New Horizon Press, 9780882822068, 208pp.
Publication Date: May 1, 2001
or
Not Currently Available for Direct Purchase