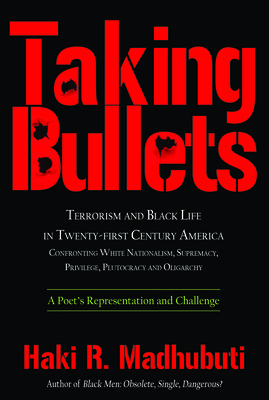 Taking Bullets (Paperback)
Terrorism and Black Life in Twenty-First Century America Confronting White Nationalism, Supremacy, Privilege, Plutocra
Third World Press, 9780883783610, 200pp.
Publication Date: April 4, 2016
* Individual store prices may vary.
Description
Taking Bullets: Black Boys and Men in Twenty-First Century America Fighting Terrorism, Stopping Violence, and Seeking Healing starts a national debate on Black male empowerment with an urgency for the survival of a generation of Black men and boys who are confronted with disparity and adversity on the streets of every city in America. Haki Madhubuti speaks directly to these young men with an empathic understanding of their plight, yet he sees hope and a vision for their future. In Taking Bullets, he challenges community leaders, educators, and all of those individuals who directly impact the lives of our young men to develop sustained strategies to confront and challenge the systematic problems of police violence, mass incarceration and economic disparity.