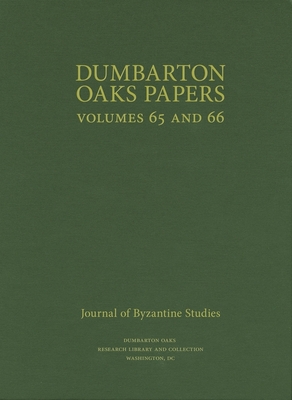 Dumbarton Oaks Papers, 65/66 (Hardcover)
Dumbarton Oaks Research Library & Collection, 9780884023876, 378pp.
Publication Date: April 22, 2013
* Individual store prices may vary.
Description
This issue includes "Bishops and Territory: The Case of Late Roman and Byzantine North Africa" (Anna Leone); "A Conflicted Heritage: The Byzantine Religious Establishment of a War Ethic" (J. A. McGuckin); "Hoards and Hoarding Patterns in the Early Byzantine Balkans" (Florin Curta and Andrei G ndilă); "Light, Color, and Visual Illusion in the Poetry of Venantius Fortunatus" (Michael Roberts); "At the Edge of Two Empires: The Economy of Cyprus between Late Antiquity and the Early Middle Ages (650s-800s CE)" (Luca Zavagno); "China, Byzantium, and the Shadow of the Steppe" (David A. Graff); "'And So, with the Help of God' The Byzantine Art of War in the Tenth Century" (Robert S. Nelson); "The Image of the Virgin Nursing (Galaktotrophousa) and a Unique Inscription on the Seals of Romanos, Metropolitan of Kyzikos" (John Cotsonis); "Marching across Anatolia: Medieval Logistics and Modeling the Mantzikert Campaign" (John Haldon with Vince Gaffney, Georgios Theodoropoulos, and Phil Murgatroyd); "The Moral Pieces by Theodore II Laskaris" (Dimiter G. Angelov); "Mary Magdalene between East and West: Cult and Image, Relics and Politics in the Late Thirteenth-Century Eastern Mediterranean" (Vassiliki A. Foskolou); "Byzantine Houses and Modern Fictions: Domesticating Mystras in 1930s Greece" (Kostis Kourelis); and "The White Monastery Federation Project: Survey and Mapping at the Monastery of Apa Shenoute (Dayr al-Anba Shinūda), Sohag, 2005-2007" (Darlene L. Brooks Hedstrom and Elizabeth S. Bolman with Mohammed Abdel Rahim, Saad Mohammed, Dawn McCormack, Tomasz Herbich, Gillian Pyke, Louise Blanke, Tracy Musacchio, and Mohammed Khalifa).
About the Author
Margaret Mullett is Director of the Byzantine Studies Program at the Dumbarton Oaks Research Library and Collection.
or
Not Currently Available for Direct Purchase