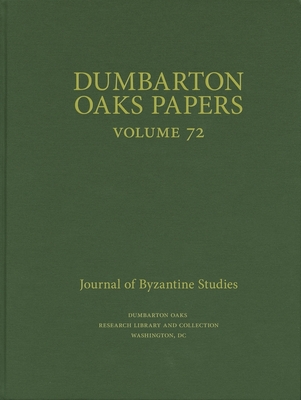 Dumbarton Oaks Papers, 72 (Hardcover)
Dumbarton Oaks Research Library & Collection, 9780884024378, 224pp.
Publication Date: March 1, 2019
* Individual store prices may vary.
Description
Published annually, the journal Dumbarton Oaks Papers was founded in 1941 for the publication of articles relating to Byzantine civilization.
In this issue: Audrey Becker, "Verbal and Nonverbal Diplomatic Communication at the Imperial Court of Constantinople (fifth-sixth Centuries)"; Alexandra Wassiliou-Seibt and Andreas Gkoutzioukostas, "The Origin and the Members of the Kamytzes Family: A Contribution to Byzantine Prosopography"; Michael Zellmann-Rohrer, "'Psalms Useful for Everything' Byzantine and Post-Byzantine Manuals for the Amuletic Use of the Psalter"; Raymond Van Dam, "Eastern Aristocracies and Imperial Courts: Constantine's Half-Brother, Licinius's Prefect, and Egyptian Grain"; Daniel Caner, "Not a Hospital but a Leprosarium: Basil's Basilias and an Early Byzantine Concept of the Deserving Poor"; Paul Botley, "Greek Literature in Exile: The Books of Andronicus Callistus, 1475-1476"; Aude Busine, "The Dux and the Nun: Hagiography and the Cult of Artemios and Febronia in Constantinople"; Benjamin Garstad, "Dionysiac and Christian Elements in the Lysos Episode in the Greek Alexander Romance (β rec.)."