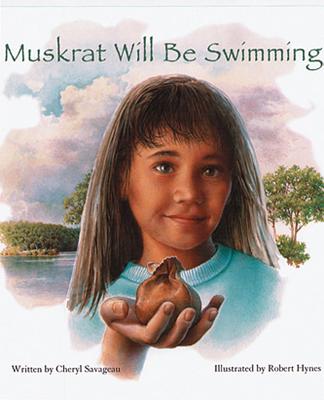 Muskrat Will Be Swimming
Paperback

* Individual store prices may vary.
Description
*Notable Books For Children - Smithsonian*
*Skipping Stones Book Award for Exceptional Multicultural and Nature/Ecology Books*
*Wordcraft Circle Writer of the Year (Prose - Children's Literature)*
*Wordcraft Circle Mentor of the Year*
Although Jeannie loves her lakeside neighborhood, her feelings are hurt by her schoolmates who live in fancier homes and call her a Lake Rat.
When she confides her troubles to her grandfather, he tells her about his own childhood experiences with teasing. As the story unfolds, the grandfather shares a traditional Seneca story that helps Jeannie to find strength in her Native identity and a new appreciation for the different roles that animals play in nature. This is a quiet book that celebrates family and place and the teachings of Native people. Muskrat Will Be Swimming is based on a real incident in Cheryl Savageau's life.
Muskrat Will Be Swimming will help inspire classroom conversations about:


Teasing and bullying


Storytelling traditions and customs in Native and non-Native families


The Seneca creation story and creation stories in general


Traditions of the Sky Woman in Native stories


Contemporary Native American families and building connections to tribal identity


Native identity and mixed-blood ancestry


Significance of dreams in Native culture


The role of animals as teachers in Abenaki culture


Animals of the forest


The Abenaki view towards the natural environment


The value of experiences in the natural world for children's growth


F&P Text Level R

Praise For Muskrat Will Be Swimming…
The
delicate artwork, done in acrylics and colored pencils, has an appealing,
luminous quality. A handsome picture book that makes its statement quietly and
effectively.
— Booklist

One of my favorite books
for young readers, not just for the beautiful illustrations but for its poetic,
memorable text. No children's writer I know has done a better job of putting
our traditions into the context of modern times while also dealing with the
issue of mixed-blood ancestry in a way that is both honest and heart-lifting.
— Joseph Bruchac, author of Jim Thorpe's Bright Path
Tilbury House Publishers, 9780884482802, 32pp.
Publication Date: April 1, 2006
About the Author
Abenaki poet, Cheryl Savageau has been awarded Fellowships in Poetry
from the National Endowment for the Arts and the Massachusetts Artists
Foundation, and three residencies at the MacDowell Colony. Her second
book of poetry, Dirt Road Home, was a finalist for the Paterson Poetry
Prize. She was awarded Mentor of the Year by Wordcraft Circle of Native
Writers and Storytellers, as well as Writer of the Year for her
children's book, Muskrat Will Be Swimming. Savageau also works as a
textile artist. Her quilts have recently been exhibited at the
University of New Hampshire in Durham.
After graduating from University of Maryland (B.A. and M.F.A.) he was asked by the Museum of Natural History in Washington, D.C., to paint the murals for its bicentennial celebration; these paintings launched his career.
Robert lives in Rockville, Maryland, next to a stream and is often visited by deer, turtles, beaver and muskrats.