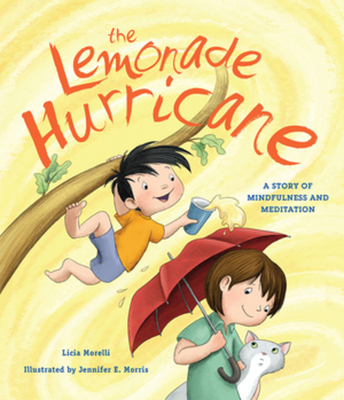 The Lemonade Hurricane
A Story of Mindfulness and Meditation
Hardcover

* Individual store prices may vary.
Other Editions of This Title:
Paperback (9/8/2020)
Compact Disc (10/6/2020)
Description
* 2016 Maine Literary Award Winner - Best Children's Book *

* Selected as Notable Social Studies Trade Book For Young People 2016, a cooperative Project of the National Council for the Social Studies (NCSS) and the Children's Book Council*

* Gelett Burgess Honor Book *


Emma doesn't really like hurricanes. After a busy day of school and activities, Emma likes to sit still and rest. Her little brother, Henry, does everything but. She calls him The Lemonade Hurricane.
Henry is a lot of fun when he's not storming through the house, so Emma decides to teach him how to be still. By showing him how to sit, bow, and breathe, Emma is able to calm the hurricane within Henry.


A perfect introduction to meditation for young readers, presented in a captivating story.


The illustrations bring the story to life with delightful whimsy.


Includes a back-of-book presentation of simple mindfulness techniques that can be shared at home and in the classroom.


In Planting Seeds, Thich Nhat Hanh, a Vietnamese Buddhist monk, teaches that by sitting still and meditating, the mind can become clear. Like Hanh's apple juice story, when a glass of lemonade is stirred, the pulp swirls around. When it sits quietly, the pulp settles and the liquid becomes clear. In this way, a glass of lemonade is a metaphor for how meditation and mindfulness work. That is why this book is called The Lemonade Hurricane. Practicing mindfulness and meditation helps us tame the hurricane within.


Fountas & Pinnell Level L

Praise For The Lemonade Hurricane: A Story of Mindfulness and Meditation…
A child-friendly introduction to the practice of meditation and the benefits of mindfulness.

Every now and again a children's book comes along that efficiently
sheds light on the practices of meditation and mindfulness in a way that
makes it all more accessible, both for kids and adults. Lemonade
Hurricane is the nickname of one of the two siblings whom we'll meet in
this lovely book; one meditates, one will learn the value of meditation
during the story. Super sweet, this short, understandable look at how we
can all approach our sittings with clarity and simplicity is a perfect
gift for kids everywhere. And any kids book that inspires me to sit
myself down upon reading is priceless...
— Elena Brower

Lemonade Hurricane is so sweet and well done. Perfect for any parents
who want to give their kids a lifelong habit of strength, peace and
compassion.
— Marie Forleo, founder of MarieTV and MarieForleo.com

Licia Morelli may just be the Mary Poppins of meditation! The Lemonade
Hurricane is an insightful, funny and grounding story that will guide
children to finding their center and peace of mind.
— Dougall Fraser, Author of But You Knew That Already

Fun and educational, The Lemonade Hurricane is the perfect introduction to mindfulness.
— Lori Deschene, Founder, TinyBuddha.com

Licia Morelli has crafted a joyous offering introducing playful
mindfulness meditation strategies for active kids. All parents should
read this book to their children and show them how to do it!
— Colette Baron-Reid, bestselling author of The Map: Finding the Magic and Meaning in the Story of Your Life

It's a useful reminder of the patience involved in being a good sibling.
Tilbury House Publishers, 9780884483960, 32pp.
Publication Date: September 1, 2015
About the Author
Licia Morelli is an internationally recognized
life coach, writer, and clairvoyant psychic who lives with her husband and two
young children on the coast of Maine. Her work has been published in The
Elephant Journal and other publications. This is her first book.

Jennifer E. Morris is the author and illustrator of May I Please Have a Cookie?, Please Write Back! (combined sales over 1 million copies) and The Lemonade Hurricane as well as other children's books. She also illustrates children's magazines, greeting cards, party ware, and educational materials and is the recipient of the Don Freeman Memorial Grant awarded by the Society of Children's Book Writers and Illustrators. Jennifer lives in rural Massachusetts with her husband and two children.