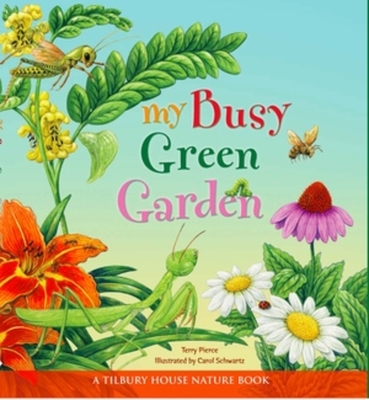 My Busy Green Garden (Tilbury House Nature Book)
Hardcover

* Individual store prices may vary.
Other Editions of This Title:
Paperback (5/7/2019)
Description
CCBC Choice Book 2018 : The Annual Best of the Year List of the Cooperative Children's Book Center

This is my busy green garden.



There's a surprise

In clever disguise,

That hangs in my busy green garden.



This is a ladybug dawdling so,

Near the surprise, in clever disguise,

That hangs in my busy green garden.



This is a honeybee buzzing below

The red spotted ladybug dawdling so,

Near the surprise, in clever disguise,

That hangs in my busy green garden.
So begins this lyrical tribute to the bugs, bees, and birds that make the garden such a busy place. With each turned page, more visitors appear, and all the while the "surprise"—a chrysalis—changes unnoticed until, on the last page, a butterfly emerges and flies away across the garden's well-tended borders. Back-of-book notes about the natural histories of the garden's denizens complete this lovely and lively portrait of backyard nature, which is also a gentle meditation on the rewards of paying attention. A chipmunk hides on every page to divert and engage young readers.
Fountas & Pinnell Level O
Praise For My Busy Green Garden (Tilbury House Nature Book)…
This action-filled cumulative rhyme deftly tells the story of a vibrant summer garden. A long view from the gated entrance to the garden portrays a neatly landscaped area hosting an array of busy backyard animals and insects. The next page zooms in on "a surprise / in clever disguise / that hangs in my busy green garden." Each subsequent scene introduces another member of the garden community (inchworm, praying mantis, dragonfly, ants, grasshopper, and chickadee), building the narrative with a rhythmic cadence that flows delightfully, offers a rich vocabulary and adds to the fluidity of the story. "This is a hummingbird fluttering ''round / the hurrying honeybee buzzing below / the red spotted ladybug dawdling so, / near the surprise / in clever disguise / that hangs in my busy green garden."
Meticulously realistic, lush paintings in garden-bright colors will have children poring over the pages to identify each new pollinator or creature that participates in a blooming garden. Children will be pleased to conclude that the surprise is a hanging pupa ready to open and will recognize the arrival of a butterfly. Repeated readings will be welcomed for the opportunities to look for the clever caterpillar and its changing chrysalis. A postscript outlines the natural role each living thing plays. A lovely literary and artistic rendering.
(Picture book. 4-6) 
— Kirkus Reviews
Pierce uses cumulative poetry to depict a garden full of life and motion awaiting the grand reveal of a butterfly emerging from its chrysalis.  The text is repetitive, with strong rhyme and an abundant dance of action verbs, well suited to the portrayal of the bustling garden.  The end matter features supplemental information on the various critters mentions within the poem, such as the buzzing honeybee and hungry chickadee. The visuals provide depth to the simple text, with vibrant colors and rich details, including droplets of water trickling down individual petals as well as a recurring snail and chipmunk scampering throughout the pages.  Echoing the emergence of the butterfly, the illustrations are contained within a defined frame until the final stanza of the poem, when the garden''''s cleverly disguised surprise is unveiled and the illustrations burst from their frame to cover the pages in greenery. In addition to the animated cast of insects and animals, there are a tremendous variety of flowers shown within the garden, including forget-me-nots planted by the garden gate, echinacea, tiger lilies and daisies.
VERDICT: An engaging read-aloud for young children and new readers, with a lot to discover anong the diversity of both the flora and fauna shown in the illustrations.

— Kelly Topita, Anne Arundel County Public Library, MD - School Library Journal
Using a cumulative rhyme scheme based on This Is the House That
Jack Built, Pierce describes "the surprise/ in clever disguise/ that hangs in
my busy green garden." Bold and bright illustrations depict flowers, animals,
birds, and insects. The details of flora and fauna are correct except that the
creatures are not in scale with each other nor with the plants. End matter is a
section called "Your Busy Green Garden," which describes the animals, birds,
and insects (including the surprise butterfly that was hidden in a chrysalis)
appearing in the book.  Teachers may find
this useful for introducing the topic of ecosystems. Pair with The Very Hungry
Caterpillar by Eric Carle. Children will enjoy this on a one-to-one basis, and
it will work well in a storytime setting.
— Kathy L. Haug - BayViews: The Association of Children's Librarians of Northern California
A cumulative tale and a science lesson (cleverly camouflaged) come together with detailed illustrations to show the variety of life in a flower garden. Readers are told there is "a surprise in clever disguise" hanging in the garden. That clue will prompt a search through the scene on the page to locate the surprise. Other residents of the garden are introduced; ladybug, honeybee, hummingbird, inchworm, mantis, dragonfly, ants, grasshopper, and chickadee each appear and engage in their usual behavior. At last, the surprise unwraps itself to reveal... ah, that would be telling!
I will say that other creatures such as beetles, snails, and a chipmunk also move about the garden and many beautiful plants and flowers are shown. For a read-aloud in a one-on-one situation there could be plenty of time spent poring over all the tiny details worked into each spread. The back matter has  a closeup of each of the characters in this tale and a description of their habits. Fittingly, the largest of these entries is saved for the "surprise." Whether you are looking for a gift for a budding young naturalist, adding to a classroom unit on gardens, or even looking for a mentor text to use in a lesson on compound words or verbs, this is a choice that will satisfy all those needs.
— Suzanne Costner - The Fairview Review
For a close-up look at the many creatures, large and small, that frequent a garden from dawn to dusk visit My Busy Green Garden by Terry Pierce and illustrated by Carol Schwartz. Each insect or animal is introduced as a surprise, but the reader must wait for the ultimate "surprise in clever disguise that hangs in my busy green garden." Up until then we meet a dawdling ladybug, a buzzing honeybee, a fluttering hummingbird, a creeping inchworm, a giant green mantis, a dashing dragon fly, ants on the march, a leaping grasshopper, and a hungry chickadee.  You will be amazed when you discover the ultimate surprise was hidden in the garden all along!
Enjoy each of the beautiful double page color drawings of this garden -- they are stunning.
— Vermont Country Sampler
Tilbury House Publishers, 9780884484950, 36pp.
Publication Date: January 31, 2017
About the Author
TERRY PIERCE (Ridgecrest, CA) was a Montessori teacher for 22 years before writing children's books. Her 18 books include Tae Kwon Do! (Bank Street College Best Children's Books of 2007); Blackberry Banquet; Mother Goose Rhymes (a 2007 AEP Distinguished Achievement Award Winner) and My Busy Green Garden. She is an instructor in the UCLA Extension Writers' Program.

CAROL SCHWARTZ has illustrated more than 50 picture books, including My Busy Green Garden, which Kirkus called "a lovely literary and artistic rendering." Her other books include Sea Squares (an Outstanding Science Trade Book and Children's Choice award winner), The Maiden of Northland (an Aesop Accolade List book), and Thinking about Ants (an Outstanding Science Trade Book). Carol taught illustration at Milwaukee Institute of Art & Design and has shared her passion for illustrating at the hundreds of elementary schools, libraries, conferences, and colleges she has visited.