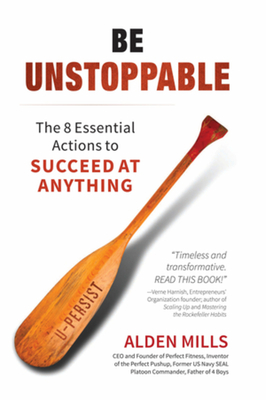 Be Unstoppable
The 8 Essential Actions to Succeed at Anything
Hardcover

* Individual store prices may vary.
Description
More than 25,000 copies sold in three languages!
Updated and Expanded with New Content

However your past has shaped you, your future is yours to shape, and if you want to shape it for success, you'll find no better coach than Alden Mills.
Using the power of a parable and his own experiences as a Navy SEAL and accomplished entrepreneur, Mills shares his proven framework for success as embodied by the action-based acronym UPERSIST: Understand the why; Plan in three dimensions; Exercise to execute; Recognize your reason to believe; Survey your habits; Improvise to overcome; Seek expert advice; and Team up. At the core of Be Unstoppable is the parable of a young skipper who meets a remarkable, seasoned captain. This chance meeting changes the young skipper's direction in life, setting him on course to identify and achieve his dreams. Each chapter concludes with action steps distilled from the story and from Alden's experiences as a U.S. Navy SEAL Commander and a business leader and entrepreneur.
You see others who have the things you want money, joy, success and suppose that they were born with special talent or into a family which made these things easy to attain. They are just lucky. What you don't know is that there is a methodology to success. BE UNSTOPPABLE contains a system to gain this vital skillset.
Praise For Be Unstoppable: The 8 Essential Actions to Succeed at Anything…
He nailed it.  A powerful message blended with fascinating stories.
— Acumatica

Alden Mills's life experience and unique perspective infuse this important work with energy, practical thinking, and a challenge for any person looking for real change in his or her life.  I look forward to applying these principles to my own business and life.
— David R. Duncan, President and CEO, Silver Oak and Twomey Cellars

BE UNSTOPPABLE is a book I plan to read to my daughter at least a few times through her development.  I recommend this book highly to parents and to anyone who wants to get more of his or her life.
— Chris Caren, CEO of Turnitin.com, the leading academic plagiarism checker technology for teachers and students

One of the best speakers we've ever had.
— USAA Federal Savings

GOAL! Mills scores with BE UNSTOPPABLE.  Whether you're looking to make the varsity team on the field or at the office, the actions in this book are the essence of how to make success happen.  Read this book!
— Dave Kaval, President, MLS San Jose Earthquakes; founder of The Golden Baseball League; and author of The Summer That Saved Baseball

The bad news is that this book wasn't available when I was playing football! The good news is that it will be mandatory reading for all three of my children.  Anyone looking to live life to the fullest need look no further than BE UNSTOPPABLE.
— Damon Huard, NFL quarterback, two-time NFL Super Bowl champion, and chief administrative officer for the University of Washington football team

This allegory of how to create and pilot your own ship against the inevitable obstacles of life provides a framework of decision, determination, and the creation of destiny.
— Barton O'Brien, founding team member, RSA Data Security, and director, Calico Commerce

Reading BE UNSTOPPABLE is like getting a Royal flush every time you play poker, except it's better.  Mills removes the mystery from success with a wonderfully simple code that you can apply to anything you have the courage to go after. This is a book that you will read over and over!
— Annie Duke, Professional Poker Player, World Series of Poker Gold Bracelet Winner
Tilbury House Publishers, 9780884485308, 160pp.
Publication Date: April 11, 2017
About the Author
Alden Mills developed his powerful methodology for defining and achieving goals while overcoming childhood asthma to become a nationally ranked rower, then a Navy SEAL platoon commander, developer of the Perfect Fitness line of exercise products, and CEO of Perfect Fitness, whose sales he took from $500,000 to $63 million in three years. He used each failure along the way to refine his system of self belief,flexible but unstoppable dream realization, team building, and continual improvement. He wrote Be Unstoppable to codify these lessons for his sons, framing his formula for success in a story to render it transparent and memorable. He shares his inspirational advice with business schools, corporations, and leadership events, speaking to audiences of a few dozen or several thousand. Alden lives with his wife and four sons in San Francisco, CA.
or
Not Currently Available for Direct Purchase