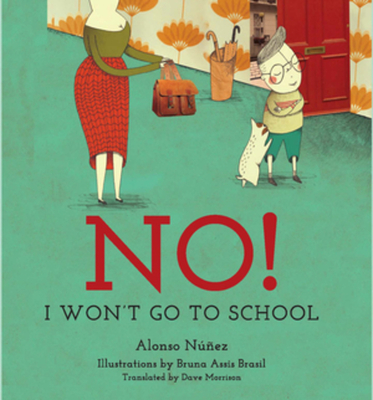 No! I Won't Go to School (Hardcover)
Tilbury House Publishers, 9780884486466, 32pp.
Publication Date: July 10, 2018
* Individual store prices may vary.
Description
Alonso Núnez's playful story, Dave Morrison's rollicking Spanish-to-English translation, and Bruna Assis Brasil's imaginative illustrations offer a doomsday vision of a child's first day of school that any young reader will recognize.
Zombies, monsters, and dragons stalk this book's pages. Cries of despair echo through them. Prisons and dungeons lie in wait. Is this a nightmare? Is it an apocalypse? Well, yes—because it's the day before our narrator's first day of school, and all entreaties to his mother are falling on deaf ears. Why should he go to school when he already knows two letters, "N" and "O," and he knows they spell NO!, which is exactly the word this occasion demands? Why aren't these magic letters working anymore?  
Lexile Level 490; F&P Level L

About the Author
ALONSO NÚNEZ was born in 1969 in Mexico City, and his parents named him after the literary world's most beloved lunatic, Alonso el Bueno, better known as Don Quixote of La Mancha. He is the author of several bestselling children's books in Mexico, which have been translated to Chinese, Korean, and Portuguese. NO! is Alonso's first English-language children's book.

BRUNA ASSIS BRASIL was born in Curitiba, Brazil, in 1986. She majored in Journalism and Graphic Design, later specializing in Illustration, at the Escola de Disseny i Art in Barcelona. Bruna has illustrated more than 40 books and won the Jabuti Prize, Brazil's highest award for children´s illustrations, in 2016. She also won the 2015 Açorianos Prize for Literature, and her work was selected in 2012 and 2016 for Crescer magazine's Thirty Best Children's Books of the Year in Brazil.

DAVE MORRISON is the author of twelve volumes of poetry, including Clubland, Cancer Poems, and Psalms.
Praise For No! I Won't Go to School…
A child's imagination inflates school fears in
Mexico-based author Núñez's first English-language book...In sophisticated pen-and-ink and photographic collages,
Brazilian illustrator Brasil renders the teacher as a hydra and the school bus
as a horned monster, and sharp-featured students wear expressions of
wide-mouthed terror...Núñez is
effective at conveying the sense of doom that ruminating on the unknown can
bring, while Brasil's art blends creaturely details and photographic accents to
stylized effect.
— NO! I Won't Go to School

A boy walks readers through his
concerns about his first day of school: "Now I'm in the belly / of this
monstrous bus. / The driver's a zombie / who won't talk to us." The
story follows the expected school-isn't-so-bad path, and the rhymes
(translated from the Spanish) drop the odd beat, but elevating the
affair is the surrealism-tinged art reflecting the kid's imagination.
— Nell Beram