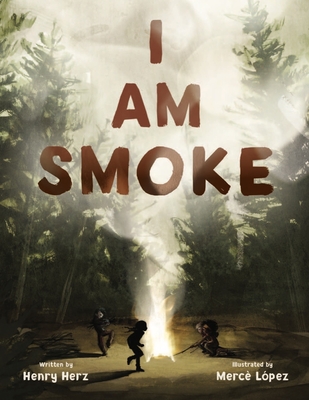 I Am Smoke
Hardcover

* Individual store prices may vary.
Description
Named to the Evanston Public Library's Blueberry List: Kids' Book that Inspire Love of Nature and Action for Planet Earth

Selected for the Notable Social Studies 2022 list
Named to the ALA Notable Children's Books 2022

"Wowww!"—– Raina Telgemeier, #1 NY Times, #1 USA Today, #1 Publishers Weekly bestselling author/illustrator
KIRKUS STAR: Lustrous illustrations and meditative text reflect on the role of smoke in nature and civilization... Smoke dissipates quickly, but this poetic text will linger.

KIRKUS'S LIST OF 150 MOST ANTICIPATED FALL 2021 BOOKS

 Smoke itself acts as narrator, telling us how it has served humankind since prehistoric times in signaling, beekeeping, curing and flavoring food, religious rites, fumigating insects, and myriad other ways.
Smoke speaks in mesmerizing riddles: "I lack a mouth, but I can speak…. I lack hands, but I can push out unwanted guests…. I'm gentler than a feather, but I can cause harm…". This rhythmically powerful narration is complemented by illustrations in which swirling smoke was captured on art paper held over smoky candle flames, and the dancing smoke textures were then deepened and elaborated with watercolors and Photoshop finishes. With this unique method, Merce López "let the smoke decide how the idea I had in mind would dance with it, giving freedom to the images."
The resulting illustrations are astounding, and they resonate with the otherworldly text.
Praise For I Am Smoke…
Lustrous illustrations and meditative text reflect on the role of smoke in nature and civilization.
Within this
exquisitely beautiful melding of science and poetry
is a ton of trust: trust that readers will absorb the intricate, evocative prose; trust they will utilize the comprehensive backmatter; and trust that readers will reconsider something as ubiquitous as smoke afresh.
Smoke dissipates quickly, but this poetic text will linger.
— Kirkus STARRED REVIEW
Why it's unconventional: The illustrations in this book violate what I thought was a hard and fast rule of art: Don't Burn the Art. Merce Lopez Ascanoio throws this out the window, holding paper over lit candles to create the smoke elements in this story about the importance of fire and smoke to humankind. Oh, and did I mention smoke is the narrator?
An unconventional stand out.
— Travis Jonker - SLJ
5 STARS. 
Lopez's illustrations are haunting and creative, achieving a unique form of smoke impressions by suspending art paper over candle flames and then finishing the images using watercolors and Photoshop. It is a beautiful book that gives smoke a voice, one that is both playful and devious.
— Bobbie Peyton - Seattle Book Review
...This one is a lyrical and mesmerizing blend of science, art, and poetry...
— Jules - Seven Impossible Things Before Breakfast,A Blog about Books
I'm excited to recommend this new nonfiction picture book. Rather than adopting a persuasive tone, this remarkable book assumes that readers will be both curious and surprised by positive attributes of something as ubiquitous, and often ominous, as SMOKE... Lyrical text empowers SMOKE as a character, making it the first person narrator of its own story. That voice reclaims credit for the many ways SMOKE offers benefits to mind, body, soul, and nature  while admitting that those benefits contradict more common negative smoke associations that dominate our collective consciousness...The fluid,  translucent, and nearly hypnotic qualities of smoke are captured effectively with few words, directly addressing the reader, and ensnare our attention...The added benefit to this already outstanding picture book for many ages is that several pages of back matter provide brief but  thorough explanations of each declaration SMOKE makes within the main text...This is one book you may loan, but will want to replace when it somehow is not returned. I am not alone in singing its praises, and I'm guessing that you'll join the chorus once you have a close look and read.
— Sandy Brehl - Unpacking the Power of Picture Books
Tilbury House Publishers, 9780884487883, 36pp.
Publication Date: September 14, 2021
About the Author
Henry Herz
(San Diego, CA) authored ten picture books. His children's short stories have been published in 
Highlights for Children, Ladybug Magazine,
and in anthologies for Albert Whitman & Co. and Blackstone Publishing. Henry also writes adult science fiction and fantasy short stories. He holds a BS in Engineering from Cornell, an MS in Engineering from George Washington University, and an MA in Political Science from Georgetown.
Merce López graduated from Llotja Art School in Barcelona and has illustrated for design, theater, and film as well as twenty children's books for Spanish and international book publishers. Her 2019 title Lion of the Sky: Haiku for All Seasons by Laura Purdie Salas received multiple starred reviews and was named a Center for Children's Books Gryphon Honor Book, an NCTE Notable Poetry Book, a Kirkus Best Picture Book, and a Parents Magazine Best Kids' Book, among other accolades.  In a starred review of I Am Smoke (Tilbury House, 2021), Kirkus called her illustrations "Lustrous" and "Exquisitely beautiful." In his 100 Scope Notes column for School Library Journal, Travis Jonker called I Am Smoke "One of the most astonishingly unconventional children's books of 2021. Here's to children's books that expand our assumptions of what a children's book can be."