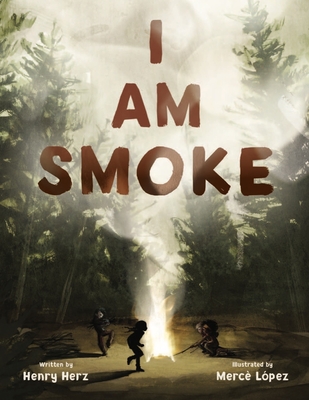 I Am Smoke
Hardcover

* Individual store prices may vary.
Description
"Wowww!"—– Raina Telgemeier, #1 NY Times, #1 USA Today, #1 Publishers Weekly bestselling author/illustrator
"Herz presents a provocative and unique look at the lifecycle and benefits of smoke throughout the millennia. Lopez's multimedia artwork further illuminates the ethereal nature of smoke as it drifts and dances across the page."- John Rocco, NY Times Bestselling author and Caldecott Honoree


"A fascinating, refreshing, and beautifully atmospheric take on something often taken for granted. I'll never look at smoke the same way again!"- Matthew Cordell, Caldecott Medalist author/illustrator


"I Am Smoke is an absolutely beautiful book, where smoke is both poetry and science. Readers will rest, float, and dance along with smoke's quiet power across time and traditions. I have lingered over its pages more than once, and I'm sure young readers will, too."- NY Times Bestselling author Doreen Cronin
Smoke itself acts as narrator, telling us how it has served humankind since prehistoric times in signaling, beekeeping, curing and flavoring food, religious rites, fumigating insects, and myriad other ways.
Smoke speaks in mesmerizing riddles: "I lack a mouth, but I can speak…. I lack hands, but I can push out unwanted guests…. I'm gentler than a feather, but I can cause harm…". This rhythmically powerful narration is complemented by illustrations in which swirling smoke was captured on art paper held over smoky candle flames, and the dancing smoke textures were then deepened and elaborated with watercolors and Photoshop finishes. With this unique method, Merce López "let the smoke decide how the idea I had in mind would dance with it, giving freedom to the images."
The resulting illustrations are astounding, and they resonate with the otherworldly text.
Praise For I Am Smoke…
KIRKUS STAR
-
Lustrous illustrations and meditative text reflect on the role of smoke in nature and civilization.
Within this
exquisitely beautiful melding of science and poetry
is a ton of trust: trust that readers will absorb the intricate, evocative prose; trust they will utilize the comprehensive backmatter; and trust that readers will reconsider something as ubiquitous as smoke afresh. Using sparse but potent text, author Herz presents smoke as a "swirling, roiling mist" vital to nature and to humans; it's as important in its mundanity as it soothes bees or flavors food as it is in the sacred, when smoke "participates in prayer" through incense. It's a high-level presentation, but inquisitive readers will enjoy connecting the lyrical lines with the thorough backmatter. Mystically multilayered illustrations combine perfectly with the text's reverential tone. A unique technique uses images created from smoke itself and are then collaged with Photoshop and watercolor. The result is gossamer landscapes decorated with molecular structures as well as homey scenes of Greeks fumigating temples. Spreads of smoke rising fluidly into a pinprick-starry sky, a "dark dance from every campfire," are veritable gems. Moving scenes involving humans include impressionistic images of various religions worshipping and a Huron child planting pumpkin seeds, though it's unfortunate a group of Indigenous people in regalia isn't given a specific tribal identity. Smoke dissipates quickly, but this poetic text will linger. (bibliography, sources)  
— Kirkus Reviews
During the last year (and more), I've found it wearying to hear well-intentioned variations on the theme of glass half full, silver-lined clouds, and windows opening when doors are slammed shut. And I'm an innately optimistic person. My reaction is likely related to decades of such blind-eyed denial of climate change, so many long months of Covid, followed by ongoing hostile arguments about rights versus responsibilities. Even the most sincere, big-hearted efforts to appreciate "the upside of down" can develop a hollow, off-pitch ring. That's why I'm excited to recommend this new nonfiction picture book. Tilbury House Publishers, 2021.
I AM SMOKE is written by Henry L. Herz and illustrated by Merce Lopez. Rather than adopting a persuasive tone, this remarkable book assumes that readers will be both curious and surprised by positive attributes of something as ubiquitous, and often ominous, as SMOKE.  
Lyrical text empowers SMOKE as a character, making it the first person narrator of its own story. That voice reclaims credit for the many ways SMOKE offers benefits to mind, body, soul, and nature while admitting that those benefits contradict more common negative smoke associations that dominate our collective consciousness.
This is certainly a rare subject to explore through personification and SMOKE is itself an entity that we rarely consider through a positive lens. That is the first of several ways in which this remarkable book seizes our attention and never lets it go. Travis Jonker, school librarian and author of picture books and the popular blog 100 SCOPE NOTES for School Library Journal, included this book among titles he designated as THE MOST ASTONISHINGLY UNCONVENTIONAL BOOKS OF 2021. Kirkus Starred Review, and this title was included in Kirkus's list of 150 Most Anticipated Fall Books.
The fluid, translucent, and nearly hypnotic qualities of smoke are captured effectively with few words, directly addressing the reader, and ensnare our attention. The opening lines tap into prehistoric emotional connections:"I am smoke.I twirl in dark dance from every campfire."A page turn allows SMOKE to proceed, for a few lines and images, with a concise but accessible explanation of what SMOKE actually is, how it is created, and how it moves. In the following double spreads, a left-page, riddle-like line or two crack open our assumptions, with slightly expanded text on the right page revealing some of the many ways that each riddle/challenge can be answered. Both halves of the call/response pattern are displayed on evocative, emotionally-toned, double page illustrations that transport readers around the world, across cultures, time, and experiences. These explorations are as scientifically and historically accurate as that chemical-structured opening, and yet they convey an almost spiritual or meditative quality to the narration. 
I can't say enough about the power and particularity of each response/spread, not only in making clear the ways in which SMOKE has served our planet and our people over time, but does so with a remarkable portrayal of SMOKE itself. I realized on every page that I could virtually smell SMOKE, only to read in other sources that the illustrator actually used smoke and flame and ash to create the original art throughout. Of course, that wouldn't transfer the scent of SMOKE to the printed media, and yet it somehow did. For an impressive preview of the art, check out this brief trailer from Tilbury House Publishers.
The added benefit to this already outstanding picture book for many ages is that several pages of back matter provide brief but thorough explanations of each declaration SMOKE makes within the main text. In addition, sources are listed to allow further study or verification of the reliability of the statements that might surprise adult readers, and will likely do so even more with young readers. 
Speaking of target ages, I can't close out this post without commending this new picture book as a great example as mentor text for established readers. I AM SMOKE could provide an innovative impetus for doing research and non-fiction writing on other topics. Not only would this inspire expansion of sources, seeking examples across cultures, time, and global settings, but such a pattern presents a useful tool for identifying the pros/cons of various natural forces (fire, wind, rain, erosion, currents, etc.) It is also a model for writing to inform and to affect readers' opinions beyond the traditional essay/persuasive writing form. In fact, it is a rich resource for writing craft and figurative language in any form or genre.
Get on it, folks. Contact your library (community and school libraries) to make sure they stock it for circulation. Purchase copies for your family, classrooms, and as gifts. This is one book you may loan, but will want to replace when it somehow is not returned. I am not alone in singing its praises, and I'm guessing that you'll join the chorus once you have a close look and read.
— Sandy Brehl - Unpacking the Power of Pcture Books
5 Stars. This is a picture book about the story of smoke and all its mystery and magic. It is made from water vapor, carbon dioxide, and ash, and it can help people or cause them harm. Humans have used smoke for centuries. The Huron farmers used it to sprout their pumpkin seeds. Ancient Greeks smoked out living spaces to drive away rodents and pests. Native Americans used it to signal each other over great distances, as did the people in Ancient China. Smoke is used in religious ceremonies to burn incense and in prayer, and beekeepers smoke bees so they can harvest honey.
In poetic prose, Hertz explains to young readers the many ways that smoke has shaped civilization. He also includes back matter that goes into additional detail about the cultures noted in the story and how they have used smoke. Lopez's illustrations are haunting and creative, achieving a unique form of smoke impressions by suspending art paper over candle flames and then finishing the images using watercolors and Photoshop. It is a beautiful book that gives smoke a voice, one that is both playful and devious.
— Bobbie Peyton - Seattle Book Review
Why it's unconventional: The illustrations in this book violate what I thought was a hard and fast rule of art: Don't Burn the Art. Merce Lopez Ascanoio throws this out the window, holding paper over
lit candles to create the smoke elements in this story about the importance of fire and smoke to humankind. Oh, and did I mention smoke is the narrator? An unconventional stand out.
— Travis Jonker - SLJ
Tilbury House Publishers, 9780884487883, 36pp.
Publication Date: September 14, 2021
About the Author
Henry Herz (San Diego, CA) authored ten picture books. His children's short stories have been published in Highlights for Children, Ladybug Magazine, and in anthologies for Albert Whitman & Co. and Blackstone Publishing. Henry also writes adult science fiction and fantasy short stories. He holds a BS in Engineering from Cornell, an MS in Engineering from George Washington University, and an MA in Political Science from Georgetown.

Merce López (Barcelona, Spain) graduated from Llotja Art School in Barcelona and has illustrated for design, theater, and film as well as twenty children's books for Spanish and international book publishers. Her 2019 title Lion of the Sky: Haiku for All Seasons by Laura Purdie Salas received multiple starred reviews and was named a Center for Children's Books Gryphon Honor Book, an NCTE Notable Poetry Book, a Kirkus Best Picture Book, and a Parents Magazine Best Kids' Book, among other accolades.