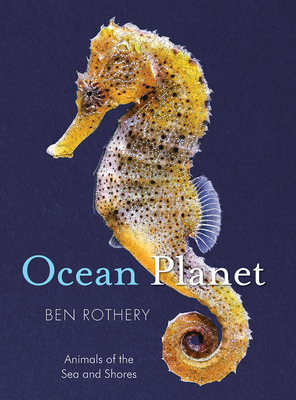 Ocean Planet
Animals of the Sea and Shore (Rothery's Animal Planet Series)
Hardcover

* Individual store prices may vary.
Description
Ocean Planet is the stunning new book from natural-history illustrator Ben Rothery – and offers a rich exploration of the creatures from the coastal and offshore waters of the world - from penguins, seagulls, polar bears and seahorses, to plankton and sharks.
NSTA-CBC Outstanding Science 2021 Title
The first Rothery book to explore ocean life: Pacific walrus, king penguin, narwhal, great white shark, squid, seahorse, moray eel, humpback whale, manta ray, orca, and many more rendered, in exquisite, dramatic detail. Includes shore dwellers who depend on the sea: Polar bears and otters of course, but also ring-tailed lemurs, Bengal tigers, and British Columbia wolves. Explores extreme ocean environments: Tropical reefs and polar seas, islands and open oceans, surface waters and the ocean abyss, kelp forests and mangroves.
Praise For Ocean Planet: Animals of the Sea and Shore (Rothery's Animal Planet Series)…
If there's an animal enthusiast on your holiday list, have a look at Ben Rothery's books about the natural world. These are beautiful works of nonfiction, large in size—always nice in a gift—and rich with illustrations that are so finely executed that you may mistake them for photographs. In "Hidden Planet," "Ocean Planet" and "Sensational Butterflies," Mr. Rothery writes as engagingly as he draws. "Who
would think, to look at them, that the elephant's closest relatives are the manatee, the dugong, and the rock hyrax?" he asks. "Or that seals, sea lions and walruses are not related to whales, dolphins or manatees, but rather to bears and weasels?" Children ages 7-13 (and their parents) won't merely enjoy themselves with these books; they'll also learn something.
— Meghan Cox Gurdon - Wall Street Journal

From plankton to polar bears, an artist's gallery of animals familiar and exotic. As in Hidden Planet and Sensational Butterflies (both Tilbury House 2021), Rothery supplies generous quantities of facts and comments about each of his subjects, but the obsessively detailed, photorealistic art easily takes pride of place. [V]iewers will still be hard put to look away from the pictures—or to miss out on his strong and contagious affinity for the creatures he portrays. Informationally catch as catch can, but the visuals are as gorgeous as they come. (index) 

— Kirkus Reviews
Tilbury House Publishers, 9780884489160, 80pp.
Publication Date: October 5, 2021
About the Author
In Norwich, England, and Cape Town, South Africa, Ben Rothery grew from a wildlife-obsessed boy to a detail-obsessed illustrator. Inspired by his love of nature, he works from a small studio in London and illustrates for London's Natural History Museum.