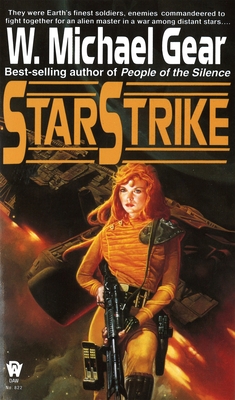 Starstrike (Mass Market)
DAW, 9780886774271, 544pp.
Publication Date: July 3, 1990
* Individual store prices may vary.
Description
Humanity's first contact with alien life is no less than a nightmare, as the Ahimsa take control of Earth and force humanity to do their bidding. Soon, Earth's most skilled strike force, composed of Russian, American, and Israeli experts in the art of war and espionage, find themselves aboard the Ahimsa vessel, training for an offensive attack against a distant space station.

And as they struggle to overcome their own prejudices while preparing to face an enemy of unknown capabilities, none of them realize that the greatest danger to humanity's future is right in their midst....
About the Author
W. Michael Gear is the author or co-author with his beloved wife, Kathleen O'Neal Gear, of fifty-seven published novels.  He is a New York Times, USA Today, and international bestselling author whose work has been translated into 29 languages and has over 17 million copies in print world wide. Both and anthropologist and archaeologist, he brings extraordinary depth and complexity to his characters and settings.  Gear lives on a back country buffalo ranch in Wyoming where he raises outstanding bison, indulges in his passion for large-caliber rifles, and pets his two shelties: Jake and Shannon. Michael can be found at gear-gear.com.
Praise For Starstrike…
Praise for the author:

"What a ride!  Excitement, adventure, and intrigue, all told in W. Michael Gear's vivid, compulsively readable prose.  A terrific new science-fiction series; Gear hits a home run right out of the park and all the way to Capella." —Robert J. Sawyer, Hugo Award-winning author of Quantum Night
 
"A marginal colony on a living world---where human life and human will are tested to the limits. An intriguing and inventive new work from Michael Gear, first of a trilogy. Recommended!" –C. J. Cherryh, Hugo Award-winning author of Downbelow Station

"Mike Gear does for science fiction what J.R.R. Tolkien did for fantasy, and he does it with panache and elan." —Rave Reviews

"Flowing imagination, storytelling marvels. The Gears have a fine time drawing the various interclan rivalries and clashes of cultures." —Kirkus

"Galactic intrigue combines with military SF in a tightly woven, intricate storywith strong male and female characters.... Highly recommended." —Library Journal

"Gear has managed to develop a vivid world, and in it set in motion a sweeping conflict." —Locus

"Gear handles characters and plot twists with equal ease.... The different alien species are distinctively drawn and interesting." —Science Fiction Chronicle