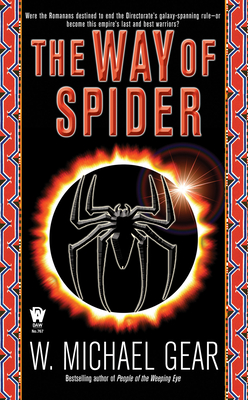 The Way of Spider (Mass Market)
DAW, 9780886774387, 416pp.
Publication Date: January 3, 1989
* Individual store prices may vary.
Description
The thrilling sequel to Gear's groundbreaking sci-fi debut, The Warriors of Spider
Rebellion on Sirius threatened to become the spark that would set the galaxy ablaze, bringing on the destruction of the Directorate-run empire—a tyranny powered by an elite corps of human, computer-linked brains. The Directorate's only hope of overthrowing the Sirian rebels rested with three of its once-mighty but now battle-damaged Patrol ships, three backup warships, and a rate of primitive, long planet-bound warriors—the Romanans.
For the Directorate had spent many centuries breeding initiative and the capability for violent action out of the human race. And only on the lost colony of World did true warriors of spider still exist. But would the Romanans willingly join the cause of the star men who had once attempted to destroy their world? And even if they did, could warriors so newly exposed to the weapons of deadly technology defeat a world and a leader ready to utilize legendary tools of destruction more lethal than any humankind had ever known?
About the Author
W. Michael Gear is the author or co-author with his beloved wife, Kathleen O'Neal Gear, of fifty-seven published novels.  He is a New York Times, USA Today, and international bestselling author whose work has been translated into 29 languages and has over 17 million copies in print world wide. Both and anthropologist and archaeologist, he brings extraordinary depth and complexity to his characters and settings.  Gear lives on a back country buffalo ranch in Wyoming where he raises outstanding bison, indulges in his passion for large-caliber rifles, and pets his two shelties: Jake and Shannon. Michael can be found at gear-gear.com.
Praise For The Way of Spider…
Praise for the author:

"What a ride!  Excitement, adventure, and intrigue, all told in W. Michael Gear's vivid, compulsively readable prose.  A terrific new science-fiction series; Gear hits a home run right out of the park and all the way to Capella." —Robert J. Sawyer, Hugo Award-winning author of Quantum Night
 
"A marginal colony on a living world---where human life and human will are tested to the limits. An intriguing and inventive new work from Michael Gear, first of a trilogy. Recommended!" –C. J. Cherryh, Hugo Award-winning author of Downbelow Station

"Mike Gear does for science fiction what J.R.R. Tolkien did for fantasy, and he does it with panache and elan." —Rave Reviews

"Flowing imagination, storytelling marvels. The Gears have a fine time drawing the various interclan rivalries and clashes of cultures." —Kirkus

"Galactic intrigue combines with military SF in a tightly woven, intricate storywith strong male and female characters.... Highly recommended." —Library Journal

"Gear has managed to develop a vivid world, and in it set in motion a sweeping conflict." —Locus

"Gear handles characters and plot twists with equal ease.... The different alien species are distinctively drawn and interesting." —Science Fiction Chronicle