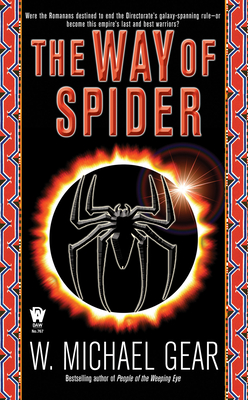 The Way of the Spider (Mass Market Paperbound)
Daw Books, 9780886774387, 416pp.
Publication Date: January 3, 1989
Description
Rebellion on Sirius threatened to become the spark that would set the galaxy ablaze, bringing on the destruction of the Directorate-run empire--a tyranny powered by an elite corps of human, computer-linked brains. The Directorate's only hope of overthrowing the Sirian rebels rested with three of its once-mighty but now battle-damaged Patrol ships, three backup warships, and a rate of primitive, long planet-bound warriors--the Romanans.
For the Directorate had spent many centuries breeding initiative and the capability for violent action out of the human race. And only on the lost colony of World did true warriors of spider still exist. But would the Romanans willingly join the cause of the star men who had once attempted to destroy their world? And even if they did, could warriors so newly exposed to the weapons of deadly technology defeat a world and a leader ready to utilize legendary tools of destruction more lethal than any humankind had ever known?
About the Author
W. Michael Gear is a fourth-generation Colorado native. When his family lived in the foothills above Horsetooth Reservoir, Michael developed a love of history, anthropology, and motorcycles. They would color his future and fill his imagination for the rest of his life. He has written several science fiction, thriller, historical, and western novels. Co-authoring with his wife Kathleen, he has written many more prehistory, techno-thriller, historical, young adult, and religious novels. He currently lives with his wife in Wyoming. Michael can be found at gear-gear.com.
Advertisement