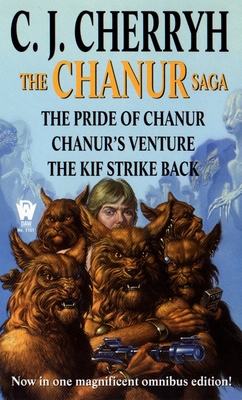 The Chanur Saga (Mass Market)
DAW, 9780886779306, 704pp.
Publication Date: May 1, 2000
* Individual store prices may vary.
Description
This omnibus contains the first three novels in C.J. Cherryh's Chanur series: Pride of Chanur, Chanur's Venture, and The Kif Strike Back. This classic adventure series features interstellar politics, a spacefaring fugitive, and first contact with a strange race known as "humans."

No one at Meetpoint Station had ever seen a creature like the Outsider. Naked-hided, blunt toothed and blunt-fingered, Tully was the sole surviving member of his company of humans―a communicative, spacefaring species hitherto unknown―and he was a prisoner of his discoverers and captors―the sadistic, treacherous kif―until his escape onto the hani ship The Pride of Chanur.

Little did Tully know when he threw himself on the mercy of the crew of The Pride that he put the entire hani species in jeopardy and imperiled the peace of the Compact itself. This seemingly defenseless fugitive held information which could prove the ruin or glory of any species at Meetpoint Station, and whomever Tully allied with would stand to gain power and riches beyond imagining. For with Tully came the key to opening trade with a previously unknown sector of space -- a sector of space controlled by a race called "humans". And what began as a simple rescue attempt would soon blossom into a dangerous game of interstellar politics where today's ally could become tomorrow's executioner, and where methane breathers become volatile wild cards playing for stakes no oxy breather could even begin to understand....
About the Author
C. J. Cherryh planned to write since the age of ten. When she was older, she learned to use a typewriter while triple-majoring in Classics, Latin, and Greek. With more than seventy books to her credit, and the winner of three Hugo Awards, she is one of the most prolific and highly respected authors in the science fiction field. Cherryh was recently named a Damon Knight Memorial Grand Master by the Science Fiction Writers of America. She lives in Washington state. She can be found at cherryh.com.
Praise For The Chanur Saga…
"Cherryh has given us an alien psychology story, and she has done a grand job. It is a mark of Cherryh's success that here, it is the human who seems alien." --Analog

"This book and the rest of the Chanur series...comprise one of the best scence fiction tales ever. Don't miss it." --Minneapolis Star and Tribune

"This is a rousing good tale, and Cherryh's feisty hani are the most believable alien characters to come down the SF pike in a long time." --Kliatt

"C.J. Cherryh can be counted on for a fast-paced story and intricately worked-out alien cultures." --San Francisco Chronicle