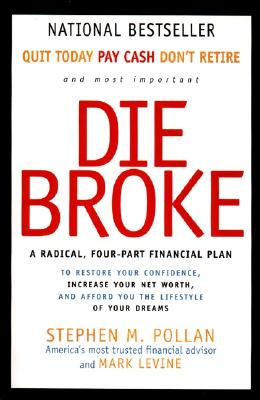 Die Broke (Paperback)
A Radical Four-Part Financial Plan
HarperBusiness, 9780887309427, 320pp.
Publication Date: September 23, 1998
* Individual store prices may vary.
Description
From America's most trusted financial advisor comes a comprehensive guide to a new and utterly sane financial choice. In Die Broke, you'll learn that life is a game where the loser gives his money to Uncle Sam at the end. There are four steps to the process:
Quit Today
No, don't tell your boss to shove it...at least not out loud. But in your head accept that from this day on you're a free agent whose number one workplace priority is your personal bottom line.
Pay Cash
You should be as conscious of spending as you are of saving. Credit should be a rarely used tool for those few times (buying homes and cars) when paying cash is impossible.
Don't Retire
Your work life should be a journey up and down hills, rather than a climb up a sheer cliff that ends with a jump into the abyss.
Die Broke
It sounds terrifying, the one intolerable outcome to your financial life. And yet, in truth, dying broke might be your best option for a life without fear: fear of failure and privation now, fear of impoverishment in the long run.
About the Author
Stephen M. Pollan, one of America's most trusted and admired financial advisors, is the author of more than a dozen books, including the national bestseller Die Broke. He presently lives in New York City and Litchfield County, Connecticut, with his wife, Corky, and in close proximity to his four children and nine grandchildren.
Mark Levine has been Stephen Pollan's collaborator for sixteen years. He lives in Ithaca, New York, with his wife, Deirdre, and his Newfoundland, Molly.
Mark Levine has been Stephen Pollan's collaborator for more than eighteen years. Together they have authored numerous books, including the national bestsellers Lifescripts, Live Rich, and Die Broke, and most recently, Second Acts. They have been nominated for three National Magazine Awards.