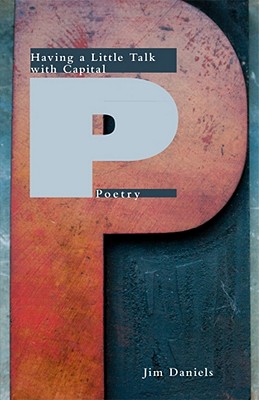 Having a Little Talk with Capital P Poetry (Paperback)
Carnegie Mellon University Press, 9780887485312, 112pp.
Publication Date: January 24, 2011
* Individual store prices may vary.
Description
In this wide-ranging collection, Jim Daniels moves from Detroit to Pittsburgh, from childhood to parenthood, meditating on memory and loss, on what we try to dispose of in our own personal landfills, and what we are confronted with in the present moments of our daily lives. He riffs on popular music in the "Esperanto" poems, trying to capture what is universal about music, apart from language, using the only thing at his disposal—language. In "The Tenured Guy" series, he creates an Everyman character to examine some of the less noble aspects of academic life, similar to how he used the character "Digger" to explore factory life in his earlier books. Throughout the book, Daniels' cynicism battles with his sense of wonder. In the face of our bones turning to dust, he seems to argue, we can both experience the pain of laughter and the joy of tears.
About the Author
JIM DANIELS has published eleven other books of poetry, along with three collections of short stories. He has also written three films and edited or co-edited four anthologies. His poems have appeared in the Pushcart Prize and Best American Poetry anthologies and have been featured on Garrison Keillor's "Writer's Almanac," in Billy Collins' Poetry 180 anthologies, and in Ted Kooser's American Life in Poetry series. In addition, his poem "Factory Love" has been reproduced on the roof of a racecar. Other recognitions include the Brittingham Prize for Poetry, The Blue Lynx Poetry Prize, the Tillie Olsen Prize, two fellowships from the National Endowment for the Arts, and two from the Pennsylvania Council on the Arts.
or
Not Currently Available for Direct Purchase