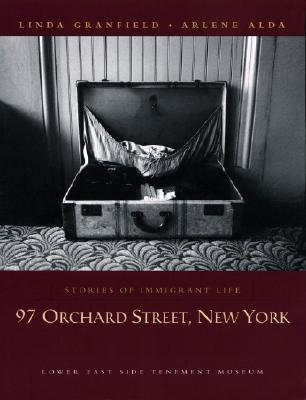 97 Orchard Street, New York: Stories of Immigrant Life (Paperback)
Stories of Immigrant Life
Tundra Books (NY), 9780887765803, 56pp.
Publication Date: October 2, 2001
Description
Imagine growing up on Orchard Street in 1916. If you were a member of the large Confino family you'd be living in 325 square feet of space. The only fresh air and natural light would come from the two windows in the front room. No heat, no water, no bathtub, no shower. Toilet in the hall. The Confinos' apartment is only one part of the Lower East Side Tenement Museum, an extraordinary facility in New York City. The Museum has restored 97 Orchard Street to provide us with an opportunity to understand the immigrant experience shared by millions who have come to North America. In text and with archival photos, Linda Granfield tells the story of four families, including the Confinos, who called 97 Orchard Street home, and provides information about the period, the history of the house, and the neighborhood, bringing to life conditions that were familiar to immigrants in many of North America's big cities. The stories and archival materials are beautifully complemented by Arlene Alda's sensitive photographs that evoke the hardship, the dignity, and the hope encompassed in 97 Orchard Street. The book includes useful facts, information about the Museum and its efforts to help new immigrants who share similar experiences. Whether or not the reader can visit the Museum itself, this book is a valuable resource in understanding our own histories in North America.
About the Author
Linda Granfield is the author of over 15 non-fiction titles for young readers which are very popular with adult readers as well. Granfield's writings bring history to life with such works as In Flanders Fields: The Story of the Poem by John McCrae, Pier 21: Gateway of Hope and the acclaimed Amazing Grace: The Story of the Hymn. Linda Granfield lives in Toronto. Arlene Alda is an award winning photographer and writer whose work has appeared in Life, Vogue, and People magazines and in numerous galleries. Her books for children include Sheep, Sheep, Sheep, Help Me Fall Asleep, Arlene Alda's 1,2,3, and Hurry Granny Annie. A native New Yorker, Arlene Alda and her husband, actor Alan Alda, divide their time between New York and California.
Praise For 97 Orchard Street, New York: Stories of Immigrant Life…
"Chock-full of the simple details of everyday life as well as larger tales of human joy and suffering, this volume presents an intriguing window into urban tenements just before and after the turn of the century."
–School Library Journal

"Alda's contemporary photos add a beautiful artistic note…The flavor of life on Orchard Street from the end of the nineteenth century through the 1930s can be tasted here."
–Booklist

"Right away Granfield gives her readers sensory images to latch onto. And the photographs further engage us: when we see photos of the tiny rooms, the beds doubling as sofas, the squalid toilets...we can much more easily imagine what it was like to live there in that time."
–Quill & Quire

"This non-fiction book is a great starting point for any social studies or history project…97 Orchard provides a lot of information without being encyclopedic in tone or presentation."
–Florida Times

"…[a] wonderful resource guide…Researched and presented with the quality we've come to expect in a Granfield title, this is a winning resource for students studying the history of immigration to the New World, ethnic cultures, or turn-of-the century lifestyles."
–Rockliffe Reviews

"The slim, delightful volume of the stories of four immigrant families who settled in a dark tenement building on New York's Lower East Side humanizes the struggles and triumphs of those families…Kudos to the museum and to this book that offers a look back on our collective ancestors."
–Kliatt

Advertisement