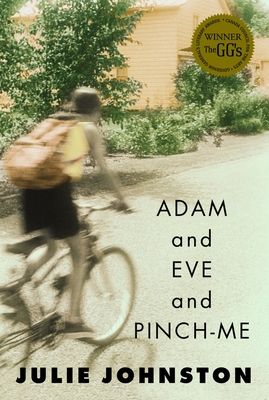 Adam and Eve and Pinch-Me (Paperback)
Tundra Books (NY), 9780887766480, 232pp.
Publication Date: September 2, 2003
Description
"If you don't want your heart broken, don't let on you have one."
Sara Moone is an expert on broken hearts. She is a foster child who has been bounced from home to home, but now she is almost sixteen and can not live in the system forever. She vows that she will live in a cold, white place where nobody can hurt her again.
But there is one more placement in store for Sara. She is sent to live with the Huddlestons on their sheep farm. There, despite herself, Sara learns that there is no escape from love. It has a way of catching you off guard, even when you try to turn your back.
When it was published in 1994, "Adam and Eve and Pinch-Me" won every major children's book award in Canada. Since then it has appeared in countries around the world. Its story of love and longing strikes a universal chord.
About the Author
Julie Johnston received the Governor General s Award for these her first two books. Her third novel, "The Only Outcast," was short-listed for the Governor General s Award, as was her most recent book, "In Spite of Killer Bees." Julie Johnston lives in Peterborough, Ontario."
Praise For Adam and Eve and Pinch-Me…
"…the players are brilliantly etched…the novel is moving and memorable."
–Publishers Weekly

"The best young reader novel to come out…this year…"
–The Toronto Star
Advertisement