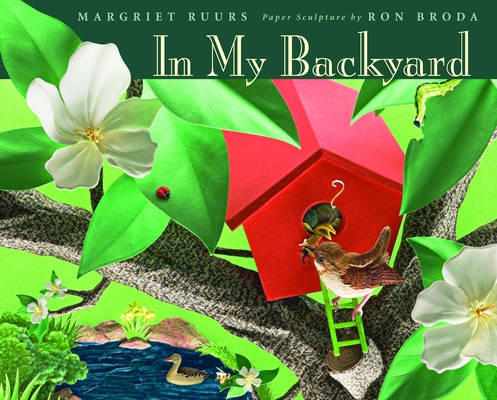 In My Backyard [With Dust Cover Flips Over to Poster] (Hardcover)
Tundra Books (NY), 9780887767753, 32pp.
Publication Date: March 13, 2007
Description
From the singing of little wrens in spring to paper wasps building their nests in summer; from baby bats drinking mother's milk in fall to baby possums climbing into mother's pouch in winter, In My Backyard celebrates nature and backyard animals through the seasons. Wildlife artist Ron Broda's detailed paper-sculpture art beautifully complements Margriet Ruurs lyrical text, and young readers will discover a captivating variety of animals and insects.
Find the ladybug in each illustration, along with a hidden animal, which becomes featured on the next page. A detailed legend and helpful hints on how to turn your own backyard into an inviting place for animals to live make this book a must-have for wildlife and nature lovers alike.
About the Author
Margriet Ruurs is the author of many books for children, including Wild Babies and A Mountain Alphabet. She has a Masters Degree in Education and has spent her adult life both writing books for children and teaching children about books. She has spent a great deal of time hiking and camping in the mountains and traveling. Margriet Ruurs has lived across North America and now makes her home in Oregon.

Ron Broda is a renowned children s book illustrator and paper sculptor. With over fifteen years in advertising, art directing, and commercial illustration, Ron combines techniques in paper sculpture and watercolor to create vivid illustrations with great detail and realism. He has created unique ad campaigns and art pieces for clients like Coca Cola, Chrysler, and Xerox. He has been named one of the top 5 Canadian Illustrators. His award-winning children s books are sold worldwide. Ron Broda lives in Sarnia with his wife Joanne and their children. When not in his studio, Ron makes time to tour various libraries and schools."
Praise For In My Backyard [With Dust Cover Flips Over to Poster]…
"In brief text and lavishly colorful illustrations, Ruurs and Broda demonstrate the diverse abundance of wildlife that frequents our backyards…Ruurs' new book reflects her admirable desire to help children learn to appreciate the majesty of their natural surrounds…Recommended."
—CM Magazine
Advertisement