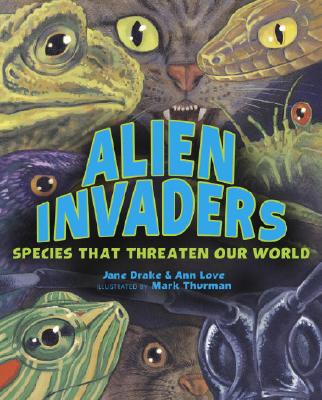 Alien Invaders: Species That Threaten Our World (Hardcover)
Species That Threaten Our World
Tundra Books (NY), 9780887767982, 56pp.
Publication Date: June 23, 2010
* Individual store prices may vary.
or
Not Currently Available for Direct Purchase
Description
From killer toads, feral felines, and brown tree snakes to multiple invaders in Lake Victoria and the Great Lakes, Alien Invaders focuses on wave after wave of invaders that affect our ecosystems and the side-effects of climate change and modern global travel on our world today. Environmentalists and coauthors Jane Drake and Ann Love present the concepts of endangered species and biodiversity in this informative look at alien invaders and how they impact our world. From the days of sailing ships and shipboard rats to the fungus that sparked the Irish potato famine to the beautiful but deadly purple loosestrife strangling native wetlands, they examine extinctions and endangerments directly attributable to these alien invaders. Learn where the invaders originated, how they traveled, where they settled, what they displaced, why the invaded natural system was vulnerable, and what can be done. Kids can determine if they themselves are invaders or savers and how they can help.
This exploration of a timely topic, coupled with the lively detailed illustrations of Toronto artist Mark Thurman, inspire kids and adults alike to be more observant and protective of our natural world.
About the Author
Jane Drake and Ann Love are sisters and coauthors who have shared a life-long interest in the environment and the wild: "As kids, our parents led our family vacations into wild places -- we spent more time looking for shorebirds in sewage lagoons than most Canadians would ever admit to." Their writing for children has always had a natural history/environmental-action focus. They are interested in making children more observant of the natural world. Together they are the authors of many award-winning books, including their most recent, Cool Woods: A Trip Around the World's Boreal Forest, Snow Amazing: Cool Facts and Warm Tales, Trash Action: A Fresh Look at Garbage, and Sweet! The Delicious Story of Candy. They have been shortlisted for numerous awards, including the Red Cedar Award, the Norma Fleck Award for Nonfiction, the Hackmatack Award, and the Silver Birch Award. Ann Love is one of the founding members of Pollution Probe. Both are married, have three children, and live in the Toronto area.

Mark Thurman is an artist, illustrator, author, and teacher who enjoys writing and illustrating picture books and conducting workshops for students and teachers. He has over thirty books to his credit. He was cocreator of the "Mighty Mites," a scientific cartoon in "Owl" magazine. Mark Thurman lives and works in Toronto.
Praise For Alien Invaders: Species That Threaten Our World…
Praise for Sweet! The Delicious Story of Candy:
"This history of things sweet and sugary is a yummy feast. The prose is chatty and inviting. There are great explanations of such matters as the history of honey production and the chemistry of sugar. Sweet! is one tasty treat." — School Library Journal

"… reading [this] book is a little like dipping into a grab bag from the candy store: the experience is fun, varied, and relatively cheap, considering the pleasure it gives." — Quill & Quire starred review

Praise for Trash Action: A Fresh Look at Garbage:
"One of the very best things about this very good book is that it doesn't preach; it will encourage and empower readers of all ages.…" — The Globe and Mail

"If you have a young eco-warrior living in your house — or you want to help create one — this is the book." — Today's Parent, Toronto
Advertisement