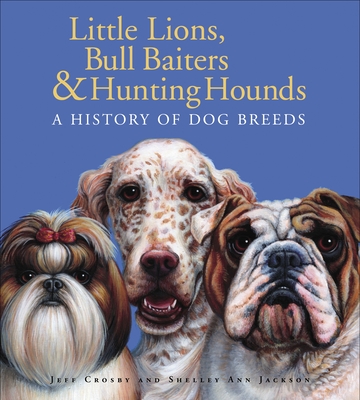 Little Lions, Bull Baiters & Hunting Hounds (Hardcover)
A History of Dog Breeds
Tundra Books, 9780887768156, 72pp.
Publication Date: March 11, 2008
* Individual store prices may vary.
Description
Since prehistoric times, humans and dogs have shared a unique bond and both have served each other well. Early people discarded food and as a result, wild wolves cast fear and caution aside, following and approaching their two-legged neighbors until they became less wary of each other. As humans hunted, fished, herded, and hauled, they found ways to benefit from the presence and talents of these animals. Over time, both learned to work together, rely on, and like each other.

This book is a fascinating look at the distinct groups that have developed — hunting, herding, working, and companion — as humans selectively bred dogs to bring out desired attributes. Stunning illustrations, maps, and fascinating information combine to explain the origins and characteristics of typical breeds within each grouping.

Little Lions, Bull Baiters & Hunting Hounds is an indispensable book for any dog lover and a wonderful guide for those about to choose their own canine companion.
About the Author
Jeff Crosby and Shelley Ann Jackson are graduates of the prestigious MFA illustration program at the School of Visual Arts in New York City. They live in Manhattan with their daughter, Harper, dachshund, Baron, and shih tzu, Millie. Jeff has illustrated six children's picture books. The duo's first book together, Little Lions, Bull Baiters & Hunting Hounds, received a nonfiction research grant from the Society of Children's Book Writers and Illustrators.
Praise For Little Lions, Bull Baiters & Hunting Hounds: A History of Dog Breeds…
"If you're curious about that unusual looking dog you saw, if you are thinking about getting a dog for the family, or it you are simply interested in the animal that so often shares our lives, this book will satisfy you…. This book, a first collaboration for the husband/wife team of professional illustrators, is richly illustrated with vibrant paintings that show the dogs in action in their historical setting or activity. The authors give mixed breeds a quick mention and offers to donate some proceeds from the book to animal welfare and rescue organizations. An engaging read for all dog lovers." Highly Recommended
— Canadian Review of Materials

" . . . an irresistible draw for both browsers and for children hoping to add a four-legged new family member." 
— Booklist

". . . this attractive volume includes interesting and sometimes unusual facts about canines. . .It gives an appreciate of the common traits and unique personalities and talents of 'man's best friend,' accompanied by high-quality illustrations, that readers will enjoy looking at again and again." 
— School Library Journal

" . . .a very thorough and more-than-beguiling disquisition (with illustrations) on the history of . . .dogs"
— The Globe and Mail

or
Not Currently Available for Direct Purchase